Smithwick Tribunal told informants are 'lowest calibre of human being'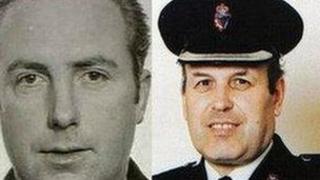 A former Irish police officer has described sources and informants as the "lowest calibre of human being".
Former detective sergeant Owen Corrigan expressed his contempt for agents at the Smithwick Tribunal in Dublin.
The retired officer, who worked in Garda special branch, agreed that intelligence was the "lifeblood" of a police force.
The tribunal is investigating allegations of Garda collusion in the murder of two RUC officers.
Harry Breen and Bob Buchanan were murdered in an IRA ambush as they returned to Northern Ireland after attending a meeting at Dundalk Garda station in March 1989.
Mr Corrigan made his comments while being cross-examined by the legal representative for former British Agent Kevin Fulton, also known as Peter Keeley.
Mr Fulton has told the tribunal that Owen Corrigan colluded with the IRA in the murders of Mr Breen and Mr Buchanan.
The former detective said the agent would "say and do anything for money".
He described agents as touts, saying it was a word commonly used in police forces around the world.
Denial
Counsel for Mr Fulton, Richard Smith, said it was a word used by subversives and "more commonly painted on gable walls".
He claimed Mr Corrigan's views "chimed" with those of convicted republican Patrick 'Mooch' Blair, who in his evidence to the tribunal stated that he would never inform on anyone.
When asked if he respected Mr Blair for his loyalty, Mr Corrigan replied that he did, and admitted he thought less of Kevin Fulton for informing against the IRA.
It was also put to Mr Corrigan that his credibility was at issue for the tribunal.
Mr Smith said Mr Corrigan had tried to champion his credibility by giving "self-serving" evidence, yet there had been quite a number of separate allegations which had been made against him.
He said both the murdered RUC officers had separately expressed concerns about Mr Corrigan; along with an RUC detective sergeant, a Garda superintendent and a customs and excise officer.
Mr Corrigan claimed that he is the victim of a British conspiracy, and that the allegations are based on hearsay and are completely untrue.
Mr Smith accused him of having an "anti-British sentiment".