Twelfth at a glance: Full parade information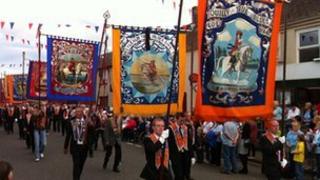 Tens of thousands of Orangemen and women will take part in the annual Twelfth celebrations across Northern Ireland today.
There will be three flagship events in Carrickfergus, Ballynahinch and Fermanagh.
Belfast City Hall will host the Orangefest celebrations which features street theatre and food demonstrations.
Find out what is happening in your local area using our grid below.
The festival is an annual celebration of William III's victory at the Battle of the Boyne in 1690.
The Orange Order was founded back in 1795
Three of this year's Twelfth demonstrations have been selected by the Grand Orange Lodge of Ireland for tourist flagship status.
The Twelfths in Enniskillen, Carrickfergus and Ballynahinch have been chosen to get extra support during the run up to the festival.
Grand Orange Lodge Director of Services, Dr. David Hume said: "This is an Olympic year and the centenary year of the Ulster Covenant as well as the Queen's Diamond Jubilee, so it will be a memorable year generally and we wish Carrickfergus, Ballynahinch and Enniskillen districts every success in their plans."
Tourism Minister Arlene Foster said: "The Grand Orange Lodge of Ireland's announcement that it has selected Twelfth demonstrations in Enniskillen, Carrickfergus and Ballynahinch as flagship events is welcome news.
"The Flagship concept focuses on those parades that want to broaden their appeal to attract a tourism audience and I have no doubt that those involved in the three selected demonstrations will provide a varied and vibrant programme of events.
"I look forward to attending the Flagship Parade in Enniskillen and wish the Grand Orange Lodge of Ireland every success with its preparations for the Twelfth."
The Order also confirmed it will be training Orange Welcome Hosts who "will act as ambassadors for the Orange Institution and its traditions on the Twelfth itself."
The annual celebration in Rossnowlagh in County Donegal was held on Saturday.
For updates on road closures and public transport information visit BBC Travel News .
Find out about your local event below.
CARRICKFERGUS
Carrickfergus has selected as one of the three flagship Twelfth parades. Over 60 bands will be taking part. King William landed in June 1690 on his way to victory at the Battle of the Boyne. The parade will move off at 11:00 BST, led by King William, accompanied by a troop of pike men in period costume with music by Sir Henry Inglesby's Fife and Drum Corps.
BALLYNAHINCH
Almost 70 lodges and 40 bands will take part in this flagship twelfth in Ballynahinch. Five districts will be represented - Comber, Saintfield, Lecale, Castlewellan, and Ballynahinch. The parade will assemble on the Belfast Road and move off at 12:30 BST.
ENNISKILLEN
The County Fermanagh Twelfth is being held in the historic island town of Enniskillen and organisers hope to attract crowds of over 20,000. Fifteen districts, 90 private lodges, 50 bands, lambeg drummers, and members of the Association of Loyal Orange women - a total of almost 3000 - will be on parade. This is the third flagship Twelfth.
COLERAINE
More than 60 lodges will take part in the Twelfth in Coleraine. The host district Macosquin will bring the parade to the town for the first time in four years and organisers say a huge crowd is expected to enjoy the festivities.
TOBERMORE
More than 60 bands will take part in the South Londonderry demonstration in Tobermore. It is expected that 4,000 people will be on parade and about 5,000 spectators will come to the small village. There are eight districts on parade - Tamlaght O'Crilly, Moneymore, Castledawson, Tobermore, Magherafelt, Ballyronan, Garvagh and Kilrea.
POMEROY
The biggest Twelfth demonstration in Tyrone will be Pomeroy where 70 lodges and 50 bands will be on parade. The parade will assemble on the Stewartstown Road and move off at 12.15pm, along Tandragee Road, Lower Main Street, and turn left into Station Road and go to the Demonstration Field. The Twelfth is held in Pomeroy every seven years.
CASTLEDERG
Grand Master Edward Stevenson, the most senior Orangeman in Ireland will be the guest speaker at the Twelfth in Castlederg. Six districts- Sixmilecross, Strabane, Fintona, Omagh, Killen and Newtownstewart - will be on parade in the Tyrone town. The religious service is due to start at 14:45 BST.
AUGHNACLOY
Twenty five lodges from two districts - Annahoe and Fivemiletown - will be on parade in Aughnacloy. Lodges and bands will assemble on the Caledon Road beside Aughnacloy Free Presbyterian Church with the parade moving off at 12:30 BST with lodges from Co. Monaghan having pride of place followed by Fivemiletown District & Annahoe District.
DONAGHADEE
The parade will move off at 12:00 BST and go via Warren Road, Shore Street, Parade, Manor Street, Millisle Road where they will turn into the Demonstration Field at The Commons. More than 50 lodges will be on parade and a large number of visitors from England and Scotland are also expected.
NEWRY
One hundred lodges and eighty bands are expected to take part in the Twelfth in Newry. Eight districts will be on parade - Lower Iveagh, Rathfriland, Banbridge, Lower Iveagh West, Bann Valley, Loughbrickland, Gilford and Newry. A religious service will be held at 14:00 BST conducted by Rev. Nigel Reid
KILKEEL
One thousand Orangemen from Mourne District will be on parade in Kilkeel this year. In size, it is one of the smallest parades on the Twelfth but organisers say with it's backdrop of the Mourne Mountains it is certainly one of the most scenic.
KEADY
The County Armagh Twelfth Demonstration is now regarded as the largest gathering of Orangemen on the day. The demonstration always attracts upwards of 20,000 spectators, with visitors from County Monaghan and County Cavan expected. 11 district lodges, 155 private lodges, 5,000 orange men and over 80 bands will be taking part.
BELFAST
One of the largest events in the Twelfth celebrations. Over 70 bands are expected to take part. A wreath laying ceremony will take place at the Cenotaph in the grounds of the City Hall shortly before 10:30 BST and the parade will then proceed via Donegal Square West, Bedford Street, Dublin Road, Shaftsbury Square, Bradbury Place, Lisburn Road, Balmoral Avenue and Malone Road to Barnetts Demesne. Orangefest will also be taking place in the grounds of Belfast City Hall.
CRUMLIN
The most senior Orangeman in Australia will be the special guest in Crumlin when more than 70 lodges parade in the South Antrim Combine demonstration. John Morrow, formerly from Glenavey, is the Grand Master of Australia and in April hosted a meeting of the Imperial Council attended by Orange delegates from around the world. It is 14 years since the parade was held in Crumlin and a large crowd is expected.
BALLYMENA
It is expected that about 15 lambeg drums will also take part in the Ballymena parade. There is always a strong Scottish presence in Ballymena for the Twelfth. The Immediate Past Grand Master of Scotland Henry Dunbar will be speaking.
CLOUGHMILLS
Forty four lodges from five districts - Cloughmills, Bushmills, Ballycastle, Rasharkin and Ballymoney - will take part in the North Antrim demonstration which is being held in Cloughmills this year. The parade will assemble on Drumadoon Road and set off at 13:00 BST through the village to the demonstration field on the Clough Road.
BROUGHSHANE
The 11 lodges of Braid district will gather for the Twelfth in Broughshane, for the third year in a row. It is one of the smallest parades of the day with 400 Orangemen taking part
PORTGLENONE
Only one Twelfth demonstration in Northern Ireland crosses a county border during the parade. Sixteen lodges will take part in the Triangle Parade in Portglenone this year and they will walk in both Co. Antrim and Co. Londonderry. In other years, Ahoghill and Cullybackey are the venues for the demonstration.