Michaela McAreavey murder defence lawyers close case after seven-week trial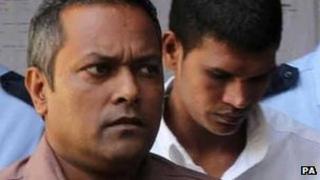 Lawyers defending the two men charged with murdering Michaela McAreavey have both appealed to the trial jury to find their clients innocent.
The 27-year-old teacher from Northern Ireland was killed in her honeymoon suite in Mauritius in January 2011.
Former hotel workers Sandip Moneea and Avinash Treebhoowoon deny the killing.
Defence barristers for the men closed their case at the Supreme Court in Mauritius after seven weeks of hearings which included 32 days of evidence.
On Monday, a lawyer representing Mr Treebhoowoon, 32, called for the trial to be scrapped and a fresh murder inquiry to begin.
Doubts
Sanjeev Teeluckdharry told the court that police should start over and find the real culprit.
In his summing up, he was heavily critical of the police investigation
Mr Teeluckdharry told the Supreme Court in Port Louis that due to the alleged torture of his client by detectives; what he described as the lack of DNA evidence, and the failure of the police to preserve the murder scene, the entire inquiry should be scrapped and restarted.
He also referred to Michaela's husband, John McAreavey, saying his evidence raised a number of doubts.
Mr Teeluckdharry said he did not wish to hurt anyone and had "a great respect for the Irish nation" which had suffered "a dark era of police brutality, extremism and miscarriages of justice".
He told the jury he was sorry that Michaela McAreavey, who was from County Tyrone, had died in Mauritius and he was even more sorry that the prosecution had failed to bring the real culprits to court.
He told the jury that the prosecution's case was like a vegetable "rotten in the inside, infested with worms and maggots and only belonging in the rubbish bin".
'Like Mickey Mouse'
He described the police investigation as a series of "catastrophic failings" from what he alleges was the "repeated and relentless torture" of his client to claims that the murder scene was not preserved properly.
Later on Monday, the barrister for Sandip Moneea continued the attack on detectives from the Mauritius police, saying they were "like Mickey Mouse - beyond stupid".
He also spoke of his "great love for the Irish nation", saying he was "a Sinn Féin supporter".
He appealed for the jury to "provide the truth to the people of Ireland and to Mrs McAreavey's family" by finding both men innocent.
The court was adjourned until Thursday, when the nine jurors will retire to consider their verdicts.