Proms in the Park set for Titanic Slipways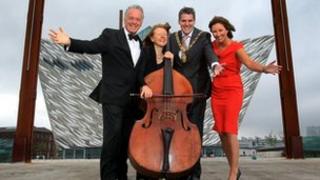 BBC Proms in the Park will be staged at the Titanic Slipways in Belfast this year, for the first time.
The event, which is in its 11th year in Northern Ireland, takes place on Saturday, 8 September.
It is part of UK-wide celebrations of the Last Night of the Proms, providing outdoor music with local and international artists.
The programme will include the Ulster Orchestra as well as American opera star Noah Stewart.
The mix of classical and contemporary music also includes Bangor-born singer-songwriter Foy Vance.
Further acts and details of the event have yet to be announced.
Peter Johnston, Director BBC Northern Ireland, said: "In what is proving to be a momentous year for Belfast, we are very excited to bring the 2012 BBC Proms in the Park in Northern Ireland back to the city and stage it at the newly transformed Titanic Slipways.
"This event is one of the most prestigious and large-scale events we undertake each year and music lovers can be assured of a very special evening of music and celebration from an eclectic line-up of local and international talent - all set against the stunning backdrop of the Titanic Signature building."
'Special backdrop'
The event is supported by Belfast City Council.
Lord Mayor of Belfast, Gavin Robinson, said: "The inspirational setting of Titanic Belfast and the Titanic Slipways will make a very special backdrop for the audience.
"It will be a night to remember that adds another event to Belfast's portfolio of major showcase activities, while bringing additional economic activity and media attention to Northern Ireland's capital."
Tickets to BBC Northern Ireland's Proms in the Park event are complimentary and will be allocated on the basis of a random draw.
You can apply for tickets from 09:00 BST on Monday, 9 July until 17:00 BST on Friday, 10 August.
You can apply for tickets online at: bbc.co.uk/tickets , by telephone on: 0370 901 1227 and textphone: 0370 903 0304