Ulster Bank problems continue on busiest day of banking year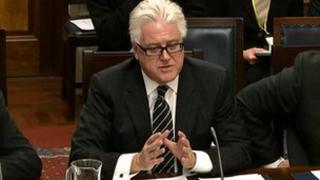 Problems for Ulster Bank customers continued on what was traditionally the busiest day of the banking year in Northern Ireland.
Thousands of customers in NI and the Irish Republic are still affected by a computer failure at the bank's parent company RBS on 19 June.
Business at the bank is usually at a peak in Northern Ireland on the eve of a traditional two week holiday period.
The holiday coincides with 12 July Battle of the Boyne celebrations.
It was the 17th day of the crisis.
On Friday, Northern Ireland's First Minister Peter Robinson said: "If you're an Ulster Bank customer and you can't get hold of your own money, I think you have every right to have some scepticism about whether it will be available to you during the course of next week."
Bonus
On Thursday, chief executive Jim Brown said he would not take an annual bonus.
Mr Brown said he was committed to regaining customers' trust.
"I have therefore informed the Ulster Bank board that I do not wish to be considered for an annual bonus award," he said.
Ulster Bank has 1.9m customers in Northern Ireland, the Irish Republic and other parts of the United Kingdom.
It is believed that about 500,000 have been affected by the technical failure.
On Thursday, Mr Brown told Stormont's enterprise committee that the bank's ongoing problems were expected to be fixed by 16 July.
He said next week would be the final week of any significant delays for customers.
Mr Brown offered an "unreserved apology for the disruption this issue has caused our customers".
"It is unacceptable and our customers would expect more from us," he told the Enterprise Committee.
He said RBS would carry out a detailed investigation of the problems and would publish the findings.
"Initial reviews indicate that the problem was created when maintenance on systems which are managed and operated by a team in Edinburgh caused an error in our batch scheduler," he added.
"The error caused automated batch processing to fail on the night of Tuesday 19 June.
"The knock-on effects created significant delays and required substantial interventions from our team."
Compensation
Mr Brown pledged that customers would not lose money as a result of the problems.
"Our intention is that customers - it doesn't matter whether it's Ulster Bank or other banks' customers - won't be out of pocket as a result of this incident," he said.
"We are also looking at whether we should be making other compensation over and above that."
He added: "We expect to have the policies finalised over the next few days. The whole theme here is to do this as quickly and painlessly as possible.
"The funds are in place to be able to do this as soon as is necessary."
Chris Sullivan, the CEO of Corporate Banking at RBS, said 100 people had been brought to Northern Ireland to work on the problems and staff have been redeployed to the "frontline".
Ulster Bank customer Adrian Henning spoke to the World at One on Radio 4 on Friday.
He said he was due to get married in a month and although he has saved enough money, he was now unable to access his savings and feared he would have to cancel certain things.
"Coming up to the wedding it is very stressful," he said.
"I can see a lot of my direct debits have been paid ok but standing orders that haven't and I'm at risk with my mortgage payment with Halifax."
Another customer, Michael Blair from Belfast, told the BBC: "We have an environmental consultancy and for weeks now we have had no idea what is in our account.
"I came back from holidays at the end of last month to find that bank charges have been taken out, but some of my staff have been paid and others haven't.
"We had even taken the precaution of paying them by cheque, and none of these have been debited either.
"Ulster Bank say they might get it fixed by 16 July, which means a whole month without service.
"They have managed to charge us though. They have debited £6,000 twice from our account."