Orange Order parade must be clear of Ardoyne by four o'clock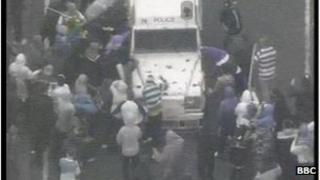 The Parades Commission has ruled that a contentious Orange Order parade in North Belfast next week must be clear of the interface at the Ardoyne shop fronts by four o'clock in the afternoon.
For years there has been rioting in the area after the parade on 12 July.
The parade will finish several hours earlier than previous years.
Sinn Fein's Gerry Kelly MLA has criticised the Parades Commission's decision.
"I find it quite bizarre. What residents wanted was that unwanted loyalist parades should not go through nationalist areas."
In previous years the parade has passed through the area around seven o'clock in the evening.
A nationalist residents group which isn't aligned to Sinn Fein have been given permission by the Parades Commission to hold a protest march in the early evening of 12 July.
The DUP say that in the next few days they'll be discussing the situation with the North and West Belfast Parades Forum, a group which includes loyalists and Orangemen.