Housing Executive land deals cost public purse millions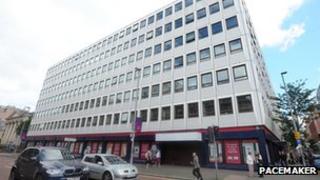 Details have emerged about misconduct and potential fraud in the sale of public Housing Executive land to private developers.
The Northern Ireland Auditor General said evidence showed deals were done without proper valuations or approval.
He has compiled a report based on the annual accounts of the executive, Northern Ireland's housing authority.
The public purse has lost millions of pounds because there were no valuations done, or there was "favouritism".
A "significant proportion" of 27 sales - netting £84m - involved sites not advertised publicly to attract bidding.
Instead they went "to preferred buyers."
Violation
The Auditor General reviewed the executive's own internal investigations into sales during a six year period up to 2010.
A range of issues was detected in violation of the housing body's statutory duty to obtain the best value for the sites.
Sales were also carried out "without the proper approval" of the executive's board or the Department of Social Development.
Under rules, the board must sign off on deals of over £100,000, but instead sales up to the value of £8m were being authorised at senior staff level.
Three cases were referred to the PSNI some time ago, while 11 more are still under consideration.
The Auditor General also found fraud and error in housing benefit payments amounting to £10m.
The Housing Executive, in a statement, said it took the issues seriously.
"We accept there have been problems and have been working to address these and will continue to do so."
The former social development minister Alex Attwood said he was aware of problems with land sales while he was in office.
"I was very concerned about what I was hearing and what I was seeing going on at the Housing Executive.
"That's why the scale of investigations and reviews of what was going on in the executive have, in my view, been much greater than any other public body in recent times".
'Urgent change'
On Tuesday, in a statement to the Assembly, the current Social Development Minister Nelson McCausland said the Housing Executive was failing its tenants and taxpayers.
The statement followed an investigation into major maintenance contracts at the housing body.
He said tenants were "not getting the services expected or being paid for by the taxpayer".
Citing one example, Mr McCausland said contractors claimed for more doors than existed in a house.
He is to introduce special measures, but warned more radical change could be on the way.
"I hope to make a statement when the assembly returns that will set forward my vision for new housing structures in Northern Ireland that will improve delivery and services for tenants and the taxpayer.
"One thing is clear to me it is time for change, urgent change."