Belfast developer wins court action against bank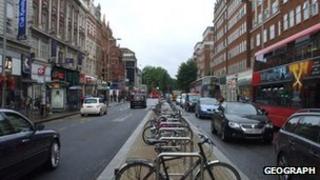 A Belfast property investor has obtained a High Court injunction preventing the Bank of Scotland from taking legal action against him or his companies.
Chris Walsh claimed that the bank effectively ordered him to sell his multi-million pound portfolio and repay all his loans within the next 18 months.
He said such a rapid sale would not raise enough to cover the loans and would likely lead to his personal bankruptcy.
He claimed that the bank had given him assurances that loans made in 2006 and 2007 could be repaid over an extended period of as much as 20 years.
The bank disputed that these assurances had been given and said that while it wanted the properties sold and loans repaid, it had not specified an 18-month time frame.
Mr Justice Weathrup granted the injunction saying that there was "a serious issue" to be tried and that without the injunction there would be "a winding up of the companies and the bankruptcy of Mr Walsh".
Mr Walsh told the court he was still servicing his loans, paying annual interest of £2.6m and capital repayments of £1.96m
Portfolio
Mr Walsh has built up a property portfolio over the last 10 years which, at its peak, was valued at more than £100m.
The portfolio includes: the Arndale Shopping Centre in Leeds, Direct Line House in Leeds, the Nags Head shopping centre in Islington, properties on Kensington High Street, the Riverside Walk shopping centre in Thetford and the Balmoral Plaza in south Belfast.
Mr Walsh was financed by Bank of Scotland Ireland (BoSI); it was a Bank of Scotland subsidiary which specialised in property lending.
BoSI ran up enormous losses in the property crash and is now being shut down by its ultimate owners, Lloyds Banking Group.
In an affidavit, Mr Walsh explained that his loans were on a 20-year basis until 2006.
At that point, he borrowed £6.2m on a three-year term to buy the Riverside Walk centre.
However, he said BoSI's then Regional Director, Stephen McDonald, had assured him the bank would ultimately grant a longer term loan.
Mr Walsh said the following year Mr McDonald told him that he was "under considerable pressure to lend more money" due to increased targets imposed by the bank's management.
The banker then showed him details of Direct Line House in Leeds and proposed that he should buy it.
Mr Walsh agreed and borrowed a total of £39m, mostly via his companies but with personal borrowings of £5.5m.
The loans were for an initial three years but Mr Walsh said he only agreed to borrow having been assured that the loan could be converted into a longer term facility.
Again, the bank disputed that such assurances had been given.
However, Mr Walsh's solicitor said that Mr McDonald had told her that he had given the assurances. Mr McDonald left the bank in May 2010.
Mr Justice Weatherup said that bank documents also "tend to support the representations that the three-year term was not a final fixed term and that further arrangements would be made in relation to an extended loan period if there was no sale at the end of the period".
The case is due in court again in September, with a full hearing in January next year.