£90 parking ticket comes into force in Northern Ireland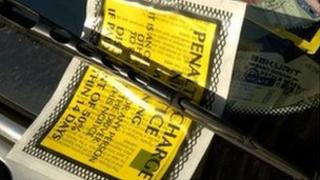 Higher penalties for illegal parking in Northern Ireland have come into force.
The new fines, voted in by assembly members last month, mean offending drivers will have to pay £90, an increase of £30.
However, if the fine is paid within two weeks, it will be reduced by 50% to £45.
Regional Development Minister Danny Kennedy said the vast majority of drivers "parked legally and safely and need never pay this penalty".
"However, the increase from £60 to £90 will act as a greater deterrent to those who choose not to park properly," he said.
"It is the department's aim to reduce the number of illegally-parked vehicles on our roads, not to issue PCNs (penalty charge notices)."
"It is my responsibility to cover the cost of delivering car parking services and I want to ensure the burden of enforcement falls on those drivers who ignore the restrictions and cause safety risks, delays and inconvenience for other drivers, cyclists and pedestrians."
The minister said an awareness campaign would be launched in October when the parking enforcement contract, currently held by NSL , comes up for renewal.
"My department will also publish a protocol on the procedures in place to deal with enforcement, including the process for issuing parking tickets," he said.
"Most people are familiar and comply with parking restrictions. I would urge all drivers to park legally, be considerate of other road users and to make themselves familiar with the parking restrictions.
"By observing double yellow lines, disabled bays for Blue Badge holders, zig zags, bus lanes, urban clearways and all other parking restrictions, drivers can avoid a parking ticket," Mr Kennedy added.