CAB: Ulster Bank customers on benefits may need DSD help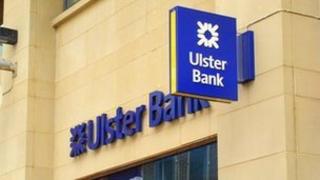 The Citizen's Advice Bureau (CAB) has said Stormont may have to help Ulster Bank customers who are in receipt of benefits if the crisis continues.
For the past two weeks, customers have been experiencing problems accessing their accounts, including wages and benefits, following a technical fault.
Derek Alcorn from the CAB said the Department of Social Development (DSD) may have to step in if the problems persist into the July holiday period.
He said it could cause "real hardship".
Many customers have said they are very frustrated at the length of time it has taken the Ulster Bank to resolve the problems, which first emerged on 20 June.
It was caused by a software update, and initially affected millions of customers within the Royal Bank of Scotland (RBS) group, which includes Ulster Bank and Nat West.
'Unacceptable'
The problems within the rest of the RBS Group have been resolved, but Ulster Bank is still working through a backlog of transactions.
Mr Alcorn said: "I do think that if they run on into next week and we're then into holiday period that it may be that the DSD needs to consider contingency plans for getting money to people - whether it's the issuing of giros or some other contingency system - because if this runs on now into the fortnight of holidays it will cause people real hardship."
However, Ulster Bank's head of retail banking, Stephen Cruise, said he did not understand the "full point" of Mr Alcorn's comments because the bank had "paid out millions of pounds in benefits over the past 16 days to individuals who have come in to our counters".
Speaking to BBC Radio Ulster on Tuesday morning, Mr Cruise said that he could not give a definite time as to when the problems at his bank would be resolved but he added "we'll break the back of it by next week".
He accepted that the situation was "absolutely unacceptable" and said that staff had been told by their customers that they did not want any more apologies - they just wanted the problem to be fixed.
'Dependency'
Mr Cruise was asked to explain why problems were persisting at Ulster Bank several days after it had had been resolved for customers at the rest of the RBS group.
He explained that the backlog in transactions had to be dealt with "in sequential order" - an order which was determined by the timeline in which the businesses within the group had been acquired.
"RBS was the original brand who acquired Nat West and we were part of Nat West," Mr Cruise said.
He said staff had to work through RBS and Nat West transactions first, before dealing with the Ulster Bank backlog "because there is a dependency between RBS and Nat West, and then Nat West and Ulster".
"So our backlog has got longer and that is the problem so we are working through a greater backlog to get the process fixed."
Mr Cruise said staff at Ulster Bank counters "cannot see up-to-date balances either" but were "bending over backwards" to help customers.