Michaela McAreavey trial - Treebhoowoon father denies lying to protect son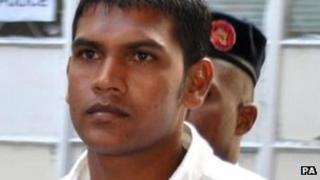 The father of one of the two men accused of murdering Michaela McAreavey has said he loves his son and "has to get him out of this situation".
Avinash Treebhoowoon, 32, and Sandip Moneea, 42, deny the killing.
Sooriedeo Treebhoowoon told the court in Mauritius that when he visited his son two days after his arrest, he said he had been beaten by police.
A prosecutor put it to him that he had made this up to protect his son. The 52-year-old labourer denied this.
"You love your son?" he was asked. "Yes," he replied.
"You only have one son?" He again replied, "yes".
"You would do anything to get your son out of this?" the prosecutor asked. Mr Treebhoowoon replied: "Yes I have to get my son out of this."
Medical examinations
The trial at the Supreme Court in Mauritius has entered its seventh week. It was initially expected to last two weeks.
Later on Monday, the court heard evidence relating to medical examinations carried out after Mr Treebhoowoon was arrested.
Mr Treebhoowoon claims he suffered days of torture which resulted in a forced confession.
One doctor read from a casualty report made on 12 January 2011, a day after his arrest.
It said the accused's general condition was "fair", and neither his face nor abdomen showed any sign of injury.
An ear, nose and throat specialist gave evidence from an examination carried out two days later.
He said that while he found a perforation in Mr Treebhoowoon's left ear, this was caused by an infection.
The doctor said that when he asked Mr Treebhoowoon if he had sustained any injuries, he replied that he had not.
Mrs McAreavey, from County Tyrone, was murdered on the island in January 2011.
The 27-year-old teacher was found dead in her suite at the Legends Hotel during her honeymoon.
The trial continues.