Thousands greet Derry Londonderry yacht at city quay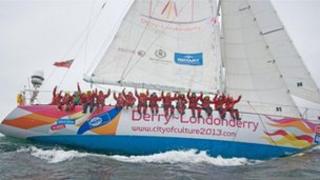 Crowds of well wishers have welcomed the yacht, the Derry Londonderry, and her crew at Derry's Foyle pontoon.
They had just completed a stretch of the Clipper Round the World Race crossing the finish line near Shrove, Donegal, at about 06:00 BST on Sunday.
Families and friends waved banners and a massive cheer went up when the yacht arrived.
She and the other nine boats in the race have been at sea for 11 months.
The yacht arrived at the Foyle Marina 15 days after from leaving Halifax in Nova Scotia.
Her crew, made up of both novice and professional sailors, battled a tropical storm en route.
Now they will get six days' rest in their home city. After that they will head on to the Netherlands and onwards to Southampton, the overall race finish.
Crew member Padraig McConway, who is from Derry, has been on board since New York. He said it had been "an amazing experience".
"It was good craic(fun) crossing the ocean. We had really bad weather. The highlight of the trip has to be coming into Derry. The low point was the sea sickness. About a third of the crew got it," he said.
There were emotional reunions and stories about the highs and lows of the journey .
The Derry Londonderry was in ninth position in this part of the race.
She was the second yacht to reach the port on Sunday. Dutch entry De Lage Landen crossed the finishing line at 02:10 BST.
On Friday, the Gold Coast Australia arrived in Derry securing its eleventh win on the yacht race after a 2,350 miles upwind battle across the North Atlantic.
Jonathan Levy of the Clipper Round the World race said the Londonderry crew were very excited about seeing home shores.
The final boat, the Qingdao, is now expected to cross the finish line at Greencastle at 08:00 BST on Monday and arrive in Derry at about 11:00 BST.