Conor Murphy 'hasn't a sectarian bone' says McGuinness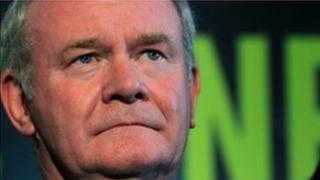 Deputy First Minister Martin McGuinness has defended his Sinn Fein colleague Conor Murphy saying he does not have "a sectarian bone in his body".
It follows an industrial tribunal ruling that Alan Lennon, a Protestant, was overlooked for the chairmanship of NI Water because of his religion.
The tribunal found that evidence by Mr Murphy, then minister in charge, was "implausible and lacking credibility".
However, Mr Murphy has refuted the findings.
Speaking at the time to Radio Ulster, the former minister said he intended talk to the lawyers who represented the DRD at the tribunal with a view to appealing against the decision.
"This particular appointment was audited by the appointments commissioner who found that it was properly adhered to," Mr Murphy said.
In an interview for the BBC's Sunday Politics to be broadcast on Sunday 1 July, Mr McGuinness questioned the tribunal's findings.
"There is not a sectarian bone in Conor Murphy's body," he said.
"Conor Murphy is part of our leadership. Naturally it is disappointing that such a verdict was reached by the tribunal.
"What this calls into question, in this particular case, is whether or not a minister has a right to make a ministerial appointment or are ministerial appointments going to be dictated by a body which, effectively, is not part of the government?"
More of the interview with Mr McGuinness will be broadcast on Sunday Politics starting on BBC 1 at midday on Sunday.