Jedward meet adoring Belfast fans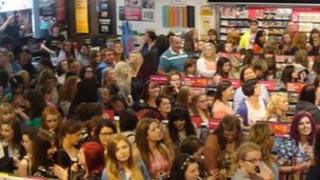 They came, they saw, they entertained.
The Jedward juggernaut pulled into Belfast on Friday afternoon to promote the twins' new album.
Fresh from their second outing at Eurovision representing the Republic of Ireland, tall-haired twins John and Edward Grimes were in HMV in Belfast city centre to promote Young Love, their third studio album.
The Irish pop twins took time to meet and greet staff before being greeted by hundreds of screaming fans.
"We're so excited to be here. Our fans have always been amazing here in Belfast," one half of Jedward, John Grimes, told the BBC.
The 20-year-old duo spent time signing CDs, posters and phone covers for excited fans.
Some were even crying with joy after receiving hugs and kisses from the pair.
Camped overnight
There was disappointment for some who missed out on one of the 350 wristbands that were available for the event.
They were given out in the shop on a first-come, first-served basis from last Monday to people who bought the new album.
Some die-hard fans, or 'Jedheads' as they like to be called, camped out overnight on the Sunday to get their hands on the ticket that would allow them to see their idols.
Fifteen year olds Rebecca Miskelly and Kelsey Vinke-Tuke camped for 12 hours to be among the first at the doors of the Belfast store on Monday morning. So, was it worth it?
"It's always worth it, they're so good to us," said Rebecca.
"They treat their fans like royalty, no other artist would do that for their fans."
Molly and Katie Friel agree. The teenagers travelled from Londonderry to queue for two hours to get a chance to meet the twins.
"It was amazing, the best thing ever," said Molly.
It was not just teenage girls eager to meet Jedward.
Grandmothers with their grandsons and mothers with younger children joined the queue that snaked around the entire ground floor of the Belfast store.
Ten-year-old Tommy Monaghan and his sister Amber, nine, were among the first to meet the twins.
"It was crazy, I was starstruck," said Tommy.
Those left waiting entertained themselves by cheering, swaying and singing along to Jedward songs belting out across the store.
It may be three years since they first appeared on our TV screens but, love them or loathe them, it looks like they are here to stay.