Stormont 'suffers power failure' as floods take toll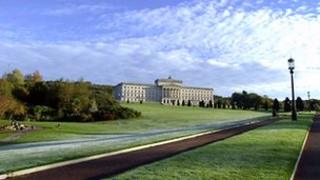 Stormont, Northern Ireland's seat of power, is suffering a power failure.
Parliament Buildings, as well as other buildings on the Stormont Estate, takes its power supply from Dundonald House which was badly affected by recent flooding across Northern Ireland.
The building is now being powered by a generator.
An Assembly spokesperson said next week's full Assembly and committee meetings would go ahead as planned. But power will be limited.
She said that MLAs and their staff would be able to work although facilities available to them would be at a reduced level.
Broadcasting organisations attempting to cover proceedings will be affected.
The canteen will operate a restricted service only. It is not clear when power will be fully restored.
Finance Minister Sammy Wilson who has responsibility for the Stormont Estate said a number of government buildings were completely without power following the flooding/
Dundonald House and Craigantlet Buildings are both closed. The remaining buildings continue to operate on a limited power supply.
"The situation is being closely monitored and Northern Ireland Electricity are assisting my Department to resolve this situation as quickly as possible. Engineers have been and will continue to be on site over the weekend," he said.
The departments affected by the closure are the Department of Finance and Personnel, the Department of Agriculture and Rural Development and Prison Service Headquarters.
Essential services provided by these departments are unaffected, Mr Wilson said.
The Assembly rises for its summer recess at the end of next week.