Queen handshake 'about reconciliation' says McGuinness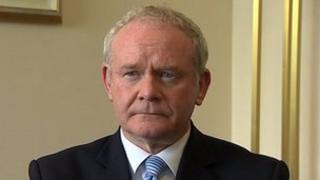 Martin McGuinness has said when he shakes the hand of the Queen he will be symbolically shaking the hand of every unionist in Northern Ireland.
Sinn Fein's Mr McGuinness will meet the Queen and shake her hand at a charity reception in Belfast on Wednesday.
Speaking to the BBC, he said reconciliation was the next important stage of the peace process.
"This is an opportunity for me to extend the hand of peace and reconciliation," Mr McGuinness said.
"I've shaken the hands of many unionists over the course of this peace process, but it's obviously physically impossible to shake the hands of every one of those hundreds of thousands.
"So symbolically, when shaking the hand of Queen Elizabeth, I'm extending the hand of peace and reconciliation to all my unionist brothers and sisters."
Mr McGuinness, Northern Ireland's deputy first minister, said leadership was about recognising the need to move forward.
"I'm not the kind of leader that pushes people forward and asks them to do the leading - some others do that but I don't.
"I believe in leading from the front."
He said he would face a challenge on Wednesday morning, "but it's a challenge I will rise to."
'Unthinkable'
Mr McGuinness said massive strides had been made during the peace process.
"The unthinkable in the past has come to pass, so other things that may be unthinkable now I believe will come to pass in the future," he said.
"But the next phase of this has to be a phase of reconciliation."
Sinn Fein agreed to the unprecedented meeting with the Queen following a special meeting of the party in Dublin on Friday.
Mr McGuinness, a former IRA leader, has been a major figure in the Irish peace process and has been deputy first minister of Northern Ireland for five years.
In the past, Sinn Fein leaders boycotted royal visits to Ireland and the IRA targeted members of the Royal Family.
In 1979, the paramilitary group murdered the Queen's cousin, Lord Mountbatten, while he was on holiday in the Republic of Ireland.
However, following the Queen's highly successful state visit to the Irish Republic last May, there had been mounting speculation that she would meet Sinn Fein.