Ulster Bank apologises for "chaos" caused by glitch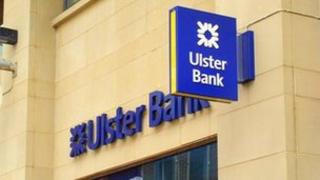 The Chief Operating Officer for Ulster Bank has apologised unreservedly to customers for the "mayhem" and "chaos" caused by a software glitch.
Ellvena Graham also promised that no customer would be out of pocket because of the problem and said all fees and charges incurred will be reimbursed.
Tens of thousands of Ulster Bank customers in Northern Ireland and the Republic have been affected, along with Nat West customers in Britain.
Transactions are running 48 hours late.
The issues will persist over the weekend, and the bank, which is part of the Royal Bank of Scotland (RBS) Group, has said it will be Monday before it is operating as normal.
Sunday opening
Ms Graham explained that although the software problem was resolved on Wednesday, Ulster Bank is experiencing a two-day delay to its processes because of the size of the group.
Payroll and social welfare payments have been affected, however, she said customers can access their money by going into any Ulster Bank branch or contacting their call centre.
Some Ulster Bank branches have extended their opening hours on Friday, including 28 branches across Northern Ireland which will stay open until 19:00 BST.
Ms Graham added that branches will also extend their hours over the weekend, including opening on Sunday, if necessary.