George Mitchell scholarship programme funding pulled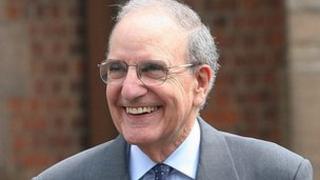 The US State Department is to withdraw funding from the Mitchell Scholarship, according to the US-Ireland Alliance.
The programme was set up in 1998 by the alliance to mark the contribution made by Senator George Mitchell to the Northern Ireland Peace Process.
Scholarships are awarded to outstanding US students, aged 18-30, to pursue one year of postgraduate study in Ireland.
About 300 Americans apply every year for scholarship with around a dozen successful.
The US-Ireland Alliance said its board was working with Senator Mitchell to overturn the decision quickly, in hopes that it did not have to halt the autumn selection process.
"We are also working to find long-term stable funding for the Mitchell," it said.
In a letter to its members, the alliance said: "The Mitchell Scholarship programme is much more than 'just' a scholarship to study in Ireland and Northern Ireland, as the Department seems to view it.
"This program is equipping a future generation of leaders in ways that are important for the US at home and abroad.
"From an Irish and Northern Ireland perspective, the program is incredibly valuable as it has greatly elevated the profile of the island's universities in the US.
"Americans who have not won a Mitchell, but learned about study opportunities on the island through the Mitchell, have ended up studying in Ireland and Northern Ireland as paying students.
"This is important for Ireland and Northern Ireland economically, and it is important in terms of creating future ties between our historically connected nations."