MPs call on government to secure NI air routes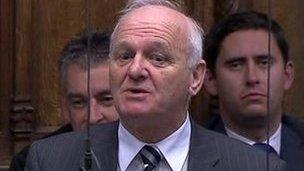 MPs have called on the government to ensure that air routes in and out of Northern Ireland are retained.
The call came at Westminster after both the transport minister and the foreign secretary faced questions from NI MPs.
DUP MP David Simpson said following the British Airways takeover of British Midland it was essential that the new carrier continued to operate from Belfast.
BMI was bought over by British Airways earlier this year.
In 2001, BA pulled out of its London Heathrow to Belfast route with the loss of 160 jobs.
David Simpson told Transport Minister Theresa Villiers there were concerns that British Airways might pull out of Belfast as it had done in the past.
"All we can ask is that the government use every influence so that British Airways stay," he said.
Giving evidence to the Northern Ireland Affairs committee, which is investigating air transport strategy, Ms Villiers confirmed that discussions between the government and British Airways had taken place.
She said the company had assured them that the air link was secure.
She was also questioned by East Belfast MP Naomi Long who wanted to know what steps could be taken to ensure that air routes remained in place.
Ms Villiers said the government remained "optimistic" but that ultimately it was a matter for BA.
"We can't direct them, it is a matter for them," she said.
Earlier, speaking in the Commons chamber, South Antrim MP Willie McCrea called on the government to protect the future of Belfast International Airport.
He said it was important that the International Airport maintained its link with Heathrow.
Foreign Secretary William Hague who was standing in for the prime minister said both Belfast airports were important to the local economy.
During the evidence session held by the Northern Ireland Affairs Committee, South Belfast MP Alasdair McDonnell also raised the issue of airport provision in Northern Ireland.
His question followed comments from the general secretary of the British Airline Pilots Association who told the committee last week that it was not sensible for Northern Ireland to have two airports that are just 14 miles apart.
Ms Villiers said the government did not have a view on the number of airports Northern Ireland should have.
However, she told MPs: "We believe there are benefits for passengers to have competing airports ".
The committee have already taken evidence from representatives of both Belfast airports, as well as from City of Derry Airport.
MPs have also heard from the CBI and the Consumer Council for Northern Ireland.