Daughter of a woman murdered in Turkey gives evidence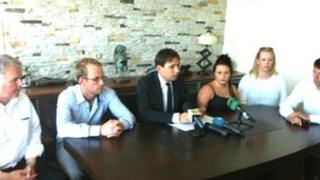 The daughter of a County Down woman who was killed in Turkey has given evidence at the pre-trial hearing of a man charged with the murder.
Marion Graham and her friend Cathy Dinsmore, both in their 50s, were stabbed to death in a wood near the city of Izmir in August 2011.
Eyup Cetin, who is in his 50s, and his son Recep Cetin, 22, are both charged with the murders.
Recep Cetin was the boyfriend of Marion Graham's daughter Shannon.
The hearing has now ended.
Eyup Cetin appeared in court on Wednesday and his son had also been expected to attend. However, the judge was told he was not available due to an "administrative error".
Speaking through a translator, Shannon Graham told the court there was no violence between her mother and Recep Cetin, and that they were good friends.
She said that she and Recep had never thought about getting married, and that he had wanted her to live in turkey but she was not happy with that.
Miss Graham also said her mother had decided that for their next holiday they would not go to Turkey.
In his initial statements to police, Eyup Cetin denied knowing either of the victims.
Miss Graham told the court on Wednesday that the accused did know both her mother and Cathy Dinsmore
Ms Dinsmore's brother, George Dinsmore, also spoke to the court.
He said that whoever carried out this "barbaric act" was a "danger to society" and he called for the longest possible sentence.
Marion Graham, from Newry, and Cathy Dinsmore, from Warrenpoint, were on holiday in Kusadasi, about 100km from Izmir when they were killed.
Shannon was on a boat trip when the killings happened. She alerted police when she arrived home and could not get in touch with her mother.
She is among a group of relatives who have travelled back to Turkey for the hearing.
The court is expected to sit again on 14 September.