Man appears in court charged with murdering County Down women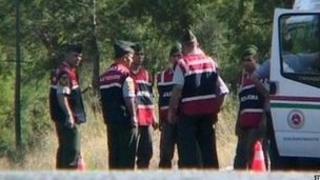 A man is appearing in court in Turkey charged with murdering two County Down women.
Marion Graham and Cathy Dinsmore, both in their 50s, were stabbed to death in a wood near the city of Izmir in August 2011.
Eyup Cetin, who is in his 50s, is attending a pre-trial hearing. His son, Recep Cetin, 22, is also charged with the murders and had been expected to appear in court.
Relatives of both victims are in Izmir.
Recep Cetin was the boyfriend of Shannon Graham, Marion Graham's 15-year-old daughter.
He initially claimed he was 17 and, until now, his case has been heard in the juvenile court.
However, in April bone marrow tests revealed he was 22, so his case was transferred to an adult court.
BBC Northern Ireland reporter Chris Page, who is in Izmir for Wednesday's hearing, explained how the Turkish justice system differed to that in the UK.
'Back to forest'
"The lawyer representing the families will put some questions to the accused and then put some question to the judges," he said.
"He (the lawyer) is going to suggest the accused are brought back to the scene, the forest where the women's bodies were found. He said that might put up a lot more lines of investigation.
"It was always the prosecution's belief that Recep Cetin did not act alone. They always said at least one other person was involved."
Ms Graham, from Newry, and Ms Dinsmore, from Warrenpoint, were on holiday in Kusadasi, about 100km from Izmir when they were killed.
Shannon was on a boat trip when the killings happened. She alerted police when she arrived home and could not get in touch with her mother.
She is among the group of relatives who have travelled back to Turkey for the hearing.
Cathy Dinsmore's brother, George, and her nephew, Robert, are also in court.
Wednesday's hearing is expected to last about an hour, before it will be adjourned. The trial is not expected to begin for several months.