Newtownabbey 'Super Cemetery' could be built opposite Children's Hospice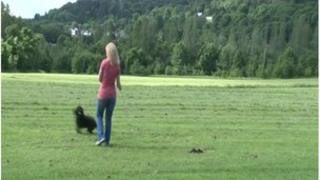 A proposal to build a cemetery on the site of a Newtownabbey park close to the children's hospice has been strongly criticised.
Locals in Glengormley are accusing Newtownabbey Borough Council of being insensitive.
They say it will turn the area into a "super cemetery".
Newtownabbey is already home to the extensive Carnmoney Cemeteries but now the council needs more burial space.
The council is proposing to put another cemetery on the site of the Valley Park.
It is overlooked by the Northern Ireland Children's Hospice and used regularly by young patients.
Councillor John Blair said: "I'm very concerned that this that this wedge of natural open space between the Newtownabbey borough and the city of Belfast will become nothing short of a super cemetery.
"I think it's the wrong place and the wrong location."
One woman who was in the Valley Park told the BBC: "It's a lovely place, to destroy all of that it's unfair to the public."
Newtonabbey Borough Council has said the plans are at an early stage and that they will consult with the hospice should the process proceed.