Kenny Edgar's 98km taxi trip for benefits assessment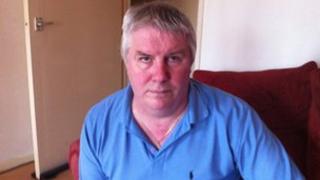 A Belfast man has said he has been told to take a 98km (60 miles) round trip in a taxi at taxpayer expense to find out if he can keep his incapacity benefit.
Kenny Edgar said he is being sent to a medical assessment in County Armagh because there are no ground floor facilities available in his home city.
Mr Edgar, who suffers from a heart condition, described the Social Security Agency's system as "crazy".
A spokesperson for the agency said it does not comment on individual cases.
Health and safety
Mr Edgar lives in east Belfast and is receipt of incapacity benefit and income support.
He has an internal defibrillator which monitors his heart rate.
When he was contacted by the Social Security Agency about a medical assessment in relation to his benefits, he was told he would have to go to the third floor of Royston House in Belfast city centre.
"I phoned them at first to make an appointment, and they said for health and safety reasons, was it ok for me to go on the third floor," Mr Edgar said.
"I asked them if they had a lift and they said 'yes'. I said that I don't have a problem travelling in lifts.
"They then asked, if in the case of an emergency, would I be able to get down three flight of stairs in a rush.
"I said 'no', and explained that I have a defibrillator fitted and that it just wouldn't be possible for me to travel down that amount of steps," he explained.
If Mr Edgar's heart rate falls too low or rises too high, his defibrillator will give him a shock in order to help it return to its normal rate.
Disability
He added: "They told me I could either go to Ballymena or Portadown to see them. So they've now made me go Portadown this Wednesday to get this assessment done.
"The girl said that they could arrange transport, a taxi would pick me up from home, wait for me while I got the assessment done and then bring me back home again.
"I've never been to Portadown, but I'd imagine it'd be quite a lot for a taxi," he said.
Mr Edgar said suitable facilities should be made available so people with conditions like his could be assessed in Belfast.
"I even asked them if they had a ground floor office in Royston House," he said.
"I would imagine that the majority of people who are having to do these assessments are going to have some sort of disability, whether it's legs or heart problems like myself."
He said spending public money on an expensive taxi fare as part of an exercise designed to cut costs for the taxpayer "doesn't make sense".
"It's just a crazy system as far as I can see," Mr Edgar said.
Apology
A spokesperson for the Social Security Agency said it "aims to ensure that all customers are given an appointment at an appropriate venue and has processes in place to gauge the mobility needs of customers throughout the application process".
The agency said that if a particular medical examination centre was unsuitable due to the needs of a benefit claimant, it would consult that person to identify a suitable alternative venue
"We apologise for any inconvenience caused and will continue to work with the customer to ensure that his specific needs are met and that services continue to provide value for money, the spokesperson added.