Former Sinn Fein MLA believes Martin McGuinness will meet Queen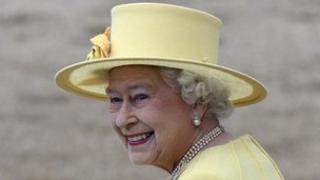 A former Sinn Fein assembly member has said he believes Martin McGuinness will meet the Queen when she visits Northern Ireland later this month.
Billy Leonard, who stepped down as an MLA before last year's Stormont election, said his "hunch" was that the meeting would go ahead.
He said he believed his former party colleagues would take their decision on the basis of helping the peace process.
Sinn Fein said it was a matter for its ard comhairle (party executive).
There has been months of speculation that a meeting will take place between the Queen and Northern Ireland's deputy first minister following her highly successful state visit to the Republic of Ireland last year.
Mr Leonard told the BBC's Inside Politics programme: "My hunch is that he will (meet her) and it will be a calculation from within the party (asking) does this help the process?"
The former Sinn Fein MLA for East Londonderry added that it would be a "very, very political decision".
Before he joined Sinn Fein in 2009, Mr Leonard had worked as a police reservist in the Royal Ulster Constabulary (RUC).
He was also an Orangeman and a former member of the SDLP.