Magilligan closure 'devastating'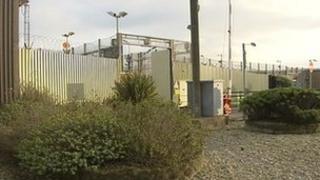 SDLP East Derry MLA John Dallat has said the closure of Magilligan Prison could have devastating consequences for the local economy.
"The economic benefit of Magilligan Prison to East Derry cannot be overstated with many local businesses depending on the trade which they get from the institution," he said.
"It is also a big employer for local people and if it were to close, it would destroy the livelihoods of many families in our communities."
Speaking ahead of an Assembly debate on the issue Mr Dallat added: "As well as being of immense economic value to the north-west, the prison also operates some excellent outreach and educational projects for inmates to rehabilitate them for their release into society.
'Serious concerns'
"We, in the SDLP, have serious concerns that if the prison were to shut, its progressive ethos would also be abolished to the detriment of society.
"This forward-looking approach which exists at Magilligan is a model of excellence for other prisons and must be retained."
Magilligan, near Londonderry, is Northern Ireland's second largest prison.
The prison service plans to replace it with a new medium security jail at a location closer to Belfast in six years' time.
It is part of a 10-year programme of reform that would cost about £240m.
Magilligan currently holds more than 500 low to medium risk male prisoners, with six years or less to serve.
It first opened its gates to prisoners 40 years ago.