RBS chairman concerned by performance of Ulster Bank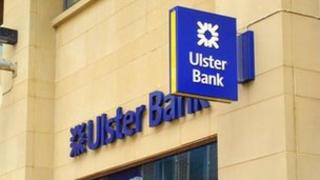 The chairman of RBS has said the disastrous performance of the bank's Irish division is his biggest worry.
Sir Philip Hampton made his comments in an interview with the Financial Times.
The bank, which is 82% owned by the UK taxpayer, trades as Ulster Bank in Ireland.
Sir Philip said, in common with other Irish banks, Ulster had 'overdosed' on property. Ulster is believed to be the biggest bank in NI and has a significant presence in the Republic.
Like all Irish banks it has suffered colossal loses in the property boom and bust.
During his interview , Sir Philip said the impairment charges run up by Ulster had been "huge", amounting to £12bn.
On top of that RBS has had to pump a further £6bn of new capital into Ulster.
'Problems'
He said that the bank would suffer further impairments.
Sir Philip said that when RBS started implementing a recovery plan three years ago the bank "simply didn't expect the scale of problems in Ireland".
He described it "the single thing" that "has most troubled us".
Ulster Bank pioneered the 100% mortgage in the Irish Republic and also lent heavily to developers.
It acted as the main lender to developer Sean Dunne when he spent 375m euros buying hotels in the Ballsbridge area of Dublin in 2005 for an ill-fated redevelopment scheme.
The bank was also one of the main lenders to the Taggart brothers house building business which collapsed with debts of up to £300m in 2008.
The initial phase of the Irish property crash wiped out many commercial developers and investors but with the country's domestic economy stuck in the doldrums there is a growing crisis among homeowners.
Recent research by the Republic's Central Bank suggests about one in 10 residential mortgages are now in arrears of more than 90-days.