Union leader hits out in Crumlin College principal row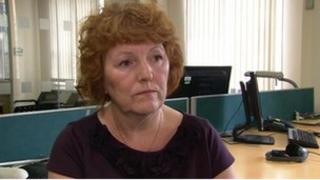 A union leader has hit out at the treatment of a school principal at the centre of a row about her return to school, after a two year suspension.
There were protests outside Crumlin Integrated college on 6 June against the return of Dr Annabel Scott.
Fern Turner from the National Association of Head Teachers (NAHT) said Dr Scott had been left "distraught" by the protests.
She also claimed the education board had not provided enough support.
The NAHT Northern Ireland officer said Dr Scott was "committed" to the pupils and to the community which she served and "has a right" to return to the school.
"She was also very concerned about the publicity she received when she was suspended and she wanted to go back to the school to clear her name," Ms Turner added.
Worsened
Dr Scott was suspended for two years after a damning inspection report.
Ms Turner criticised the response of the North Eastern Education and Library Board (NEELB) and claimed that Dr Scott had not received enough training once the formal disciplinary process began.
The NEELB said a programme of training and support was agreed with Dr Scott and her union representative.
The board added that Dr Scott had undergone an "intensive training programme to address the performance issues highlighted by the inspection" and would be taking a leadership course during the summer break.
Both the performance and finances at the school have worsened since Dr Scott was suspended and the college is now in "formal Intervention".
Mrs Turner said that in assessing the viability of any school, the NEELB and Department of Education look at the school budget, the percentage of A to C GCSEs, and numbers of pupils.
Deficit
"Since Dr Scott was suspended the percentage of GCSEs decreased from 54% A to Cs in 2009 to 39% A to C in 2011 and pupil numbers decreased from 310 to 226. The budget deficit has increased to £201,411."
The board said the deficit has grown but the school is now living within its annual budget.
On GCSE results, the board said there are now 100 fewer pupils at the school than when Dr Scott was previously working there.
"That could have affected the level of results," said a spokesman.
Mrs Turner said she was concerned about the way the process as a whole had been managed by the NEELB.
"Although a number of schools across Northern Ireland have been deemed unsatisfactory, Dr Scott was the only principal suspended from her post," she said.