Belfast city hall welcomes torch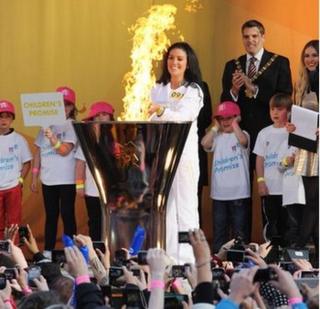 The Olympic torch has arrived at Belfast City Hall on the penultimate day of its tour of Ireland.
Thousands of people gathered in front of the building where a concert is being staged to welcome the torch.
The city's final torchbearer, Laura McCann, carried the flame on stage and lit a large cauldron in front of the crowd.
Ms McCann, a PE teacher from St Dominic's Grammar school, described the experience as "absolutely amazing".
"It was excellent. At the end of the day I was just trying to remember what the Olympics represents - and I can remember watching the Olympics since forever - so to be a part of even one day, 300 metres, was just outstanding," she said.
Belfast's newly elected Lord Mayor, Gavin Robinson, said thousands of people had lined the route across the city to catch sight of the torch and support those carrying it.
"The message of hope and inspiration and aspiration the torch symbolises has really captivated people," he said.
Entertainment at the free concert was provided by Bellaghy rock group General Fiasco and Britain's Got Talent dance act, Twist and Pulse.
Ms McCann was the 91st person to carry the torch during its 125-mile journey through Northern Ireland and the Republic of Ireland.
It will continue its journey on Thursday - when another 46 torchbearers will carry the flame across Counties Antrim, Down and Londonderry - before it moves on to Scotland.