Vast majority of pre-school applications in Northern Ireland granted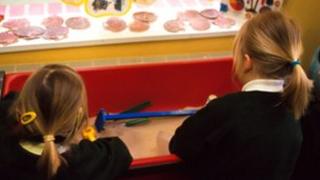 Education Minister John O'Dowd has said the parents of only 24 children who have applied for pre-school places have not managed to find a place.
More than 22,000 three-year-olds will start pre-school in September.
After the first applications were processed, over 1,400 failed to get places amid complaints of shortages.
While the parents of almost exactly half of them did not re-apply, almost all the others are receiving letters on Saturday confirming their places.
The figures do not include two-year-olds whose parents applied.
Mr O'Dowd said his staff had made considerable effort to help parents, and the letters sent to parents outline other school options in their education board areas.