Lord Rana is cleared of assaulting his wife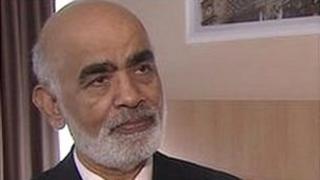 One of Northern Ireland's best-known businessmen, Lord Diljit Rana, has been cleared of assaulting his estranged wife.
A judge dismissed allegations that the multi-millionaire had subjected Lady Shruti Rana to a "brutal and sustained" attack at his Belfast offices.
Lawyers for the hotel owner, who is 73, said his high reputation had been restored by the acquittal.
Lady Rana had claimed her husband was angry and grabbed her under the arms.
She claimed he had forced her against a wall after she accused him of lying about a business meeting.
Earlier, Belfast Magistrates Court heard allegations that the Indian-born hotelier twisted her flesh during a disputed confrontation at Andras House, his hospitality and property company headquarters, on April 1 last year.
But the businessman, who was made a life peer in 2004 and serves as the honorary consul of India to Northern Ireland, insisted his wife had told a pack of lies about him.
She was also accused of trying to blackmail him in a bid to secure a better divorce settlement.
Following two days of evidence, Deputy District Judge Neil Rafferty returned a not guilty verdict on the assault charge.
"If the assault was in the terms Lady Rana described, that it was a brutal and to some extent sustained assault, I would be stunned if the injuries were not much more significant than a 2x3cm bruise on the inner aspect of her arm," he said.
Lord Rana, of Marlborough Park South, Belfast, told the court his wife became angry and started shouting when he returned to Andras House from a meeting at a Belfast hotel.
'Checked calls'
He said she refused to believe him about where he had been, snatched his phone from him and started to check his call records.
According to his evidence, Lady Rana stood against the door of his office and refused to move when he pleaded for her to let him past.
"I was trying to pull the handle to open the door and with the other hand I was trying to take the telephone from her," he told defence counsel Eilis McDermott QC.
Asked whether he grabbed and painfully pinned his wife, he replied: "That's totally fabricated lies."
He insisted it would have been physically impossible to have acted as alleged.
"All of the effort was to get out of the room and to force open the door because she was blocking me getting out," he said.
The court heard that the incident was the final straw in the couple's relationship, with divorce proceedings then initiated.
Lord Rana accepted there had been difficulties in the marriage, pointing to his wife only spending 41 days in Northern Ireland during a six-month period from September 2010-February 2011.
She was said to have travelled frequently to India as part of her own charitable trust work, and to see family.
He added: "My impression was that she wasn't totally committed to the marriage."
The hotelier denied suggestions by Philip Henry, prosecuting, that he became annoyed and frustrated at his wife questioning his whereabouts.
He told the barrister: "I have been living in this country since 1966; I employ about 300 people; I have employed over that period thousands of people.
"One of the things to running a business is dealing with people, all different people, and you don't get upset, you deal with them calmly and collectedly. I wasn't upset."
Delivering his verdict, Judge Rafferty referred to a "curious" incident where Lady Rana's phone connected to the phone of her husband - who was then in India - while she was making her complaint to police.
She said her conversation with officers was inadvertently left as a voicemail recording.
"I have never heard of such a thing before," the judge said.
He concluded that if he was deciding the case on the balance of probabilities it was likely that there was "some sort of coming together at the door".
However, he ruled: "I do not accept the nature of the assault alleged by the prosecution, given both the limit of the injuries and subsequent reporting of the injuries.
"I cannot be sure beyond reasonable doubt. The only proper verdict I can bring is that I should dismiss the charge against Lord Rana."
Outside court Linus Murray, of defence solicitors O'Reilly Stewart, said in a statement: "Lord Rana is very pleased that the magistrate, after hearing all of the evidence, acquitted him and so has been enabled to clear his name against the unfounded allegation.
"The allegations against Lord Rana were without substance but inevitably caused Lord Rana great distress.
"These allegations were calculated to damage Lord Rana's high reputation in Northern Ireland and elsewhere, and so the decision today fully restore's Lord Rana's high reputation and standing."
He added that his client was saddened by the breakdown in his marriage which led to him initiating divorce proceedings.
"Lord Rana has been dumbfounded by the fact that Lady Rana should have taken such steps," the solicitor said.
"Finally, Lord Rana is at a loss to understand why, in the light of the evidence his solicitors provided to the Prosecution Service, these proceedings should have been pursued at all."