Peter Robinson says Alliance shared future group boycott 'ludicrous'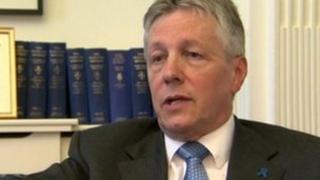 First Minister Peter Robinson has accused the Alliance Party of being "belligerent and bellicose" over its decision to pull out of a Stormont group aimed at agreeing a shared future strategy.
He described the Alliance move as "ludicrous" and said both he and the deputy first minister were still determined to make the process work.
Last week, the Alliance leader David Ford said his party was leaving the cross-party Cohesion, Sharing and Integration working group.
Mr Ford said there had not been enough progress on schools, housing or flags.
His party made the production of a shared future strategy a condition of taking the justice ministry two years ago.
'Irrational'
But in his first broadcast interview since the Alliance move, Mr Robinson told the BBC: "If they were serious on that basis then they would pull out of the justice ministry."
Asked if he feared that could be the next step, he said: "If they are as irrational than to boycott a process when we're attempting to get a shared future for Northern Ireland, anything is possible in terms of what the Alliance Party is trying to do.
"I can't think that he would and I don't think that his electorate would be very pleased with him if he did. All I can say is that he did indicate that that (a Shared Future strategy) was an essential ingredient for him to be justice minister."
Mr Robinson said the decision to leave the working group was "very disappointing" and ran counter to what Alliance claimed to be its objectives.
"Having spoken to a number of people who would be their natural supporters, people are aghast at their behaviour and cannot see the rationale behind it," he said.
"We set up the group in order to get the highest level of consensus we can get.
"For anybody to walk out on the basis that they are not getting everything that they want seems a ludicrous position to adopt.
"None of us will get everything that we want in that document. I would like to see an awful lot more than is in the draft, in terms of shared education for instance, but I have to recognise the limitations if I am going to get an agreed document.
"It will not stop me arguing for more in that area, no more than it should stop the Alliance Party doing the same.
"The problem for the Alliance Party is that they're consensus politicians in theory, but not in practice.
'Belligerent'
"I think you've seen some fairly belligerent and bellicose behaviour on the part of the Alliance Party of late. I think it's unfortunate.
"I am absolutely determined that we move towards a shared future. We have seen the cost of division in our past, and if we are going to change things, it does require us to move forward."
Mr Robinson also defended the controversial development on the site of the former army base at Girdwood in north Belfast, saying 95% of it will comprise shared facilities.
"Maybe people would like more housing but there are other housing projects in north Belfast - it was never to be relied on as a housing site," he added.
The first minister said he hoped a shared future strategy would be agreed "in a matter of weeks rather than months".
"Maybe it will not get us there immediately but step by step we will get there and there is absolute determination both on the part of the deputy first minister and myself that this process will work."
Alliance MLA Stephen Farry said his party had been standing up for its principles.
"A closed-door process around CSI was not producing an outcome worthy of the name - it was heading for a lowest common denominator, and we need to see real progress over a shared future," he said.
"We will make compromises where necessary to move things forward, but there's also a time where we have to stick to our principles to make sure we are delivering for the people of Northern Ireland.
"I hope we will see a document in due course but it's going to be a better document if we air these issues in public and have a frank discussion."