Michaela McAreavey trial hears details of alleged confession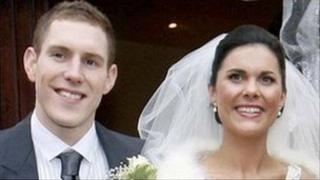 The trial of two men accused of the murder of Michaela McAreavey in Mauritius has been hearing details of her killing.
Mrs McAreavey, 27, was found dead during her honeymoon at the Legends Hotel in January 2011.
Avinash Treebhoowoon, 30, and Sandip Moneea, 42, deny murder.
In a statement, Mr Treebhoowoon said Mrs McAreavey had come into the room and found him with her purse.
It read: "I saw a purse and I decided to steal one. I told Sandip... there is a purse let's steal it.
"I heard the door opening and I saw a woman coming in. She saw the purse in my hand and screamed and asked: 'What are you doing searching through my purse?'
"I tried to leave, but she tried to stop me, so I pushed her and she fell on her back.
"I saw Sandip at that moment. She was screaming. So I told Sandip: 'Lets stop her screaming.'"
In the statement, read to the court on Wednesday, Mr Treebhoowoon said when the Tyrone woman lost consciousness they lifted her into the bath and started to run the water to "wash out any trace."
The Supreme Court was told that the statement was made three days after the killing.
The court has been hearing from Chief Inspector Luciano Gerard, who was in charge of the investigation.
Police officers stationed near the Legends complex were the first to arrive at the scene of the murder, but a few hours later the investigation was handed over to Chief Inspector Gerard's unit.
He told the jury that he had questioned Mr Treebhoowoon two days after the killing.
He said that on the same day the 30-year-old room attendant voluntarily accompanied police officers to the Legends Hotel for a photographic reconstruction.
The trial continues.