Sinn Fein: From 'peace building to nation building'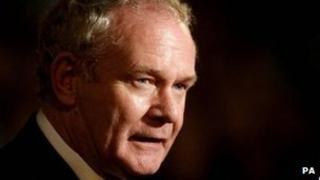 "This is not about trying to turn unionists into nationalists or to try to hoodwink people about our intentions".
So said Martin McGuinness before he went on to expand on Sinn Fein's discussions with what he termed a "very significant group" of Protestants and unionists.
The deputy first minister did not name them, but it was not long before it became clear he was talking about former Methodist President Harold Good, loyalist Jackie McDonald and the victims' campaigner Alan McBride.
The Sinn Fein chair, Declan Kearney, said he had also been having discussions with the former Alliance leader and Independent Monitoring Commission member Lord Alderdice.
The names are not much of a surprise.
Harold Good witnessed IRA decommissioning and Alan McBride met Gerry Adams on camera two years ago (the meeting was facilitated by Harold Good).
Meanwhile, Jackie McDonald has been involved in discussions on interfaces and other issues with republicans for a long time and Lord Alderdice flew all the way to Baghdad in the company of Martin McGuinness to try to export conflict resolution (and one assumes they must have talked about something in transit).
However, republicans chose their ard fheis as the moment to emphasise the dialogue and to challenge the leaders of political unionism to get involved.
Already the DUP's Gregory Campbell has given them a dusty response claiming that "the republican leadership seems to completely misunderstand the unionist mindset when they engage in this type of initiative".
He added: "It's as if they have offered 30 years of the hard-man and now are offering years of the soft-man routine, but still not understanding what unionism is about.
"They need to realise that our Britishness cannot be negotiated away, just as it couldn't be blasted away."
The DUP's Jeffrey Donaldson sounded more conciliatory on BBC Radio Ulster's Nolan show, pointing out that his party was working with Sinn Fein on a day-to-day basis up at Stormont.
But, he added that republicans saying "sorry" for their campaign should be a starting point for discussions.
One point of confusion concerns what this dialogue is all about.
Journalist Brian Rowan pointed out that Harold Good et al are "not eejits" and it would be wrong for anyone to assume the talks are just aimed at paving the way towards a united Ireland.
Indeed it seems safe to assume that is not number one on loyalist Jackie McDonald's list of priorities.
However, at this weekend's ard fheis, several Sinn Fein figures specifically mixed their vision of the future direction of Ireland together with the unfinished business of dealing with the past.
Martin McGuinness, for example, said: "It is now time to move from the peace building phase of the struggle to the nation building stage".
He also referred to the initiative as a "process of national reconciliation".
The deputy first minister went on to say that "in the discussions leading to re-unification we need to be imaginative and generous towards unionists".
When I asked Declan Kearney whether the dialogue was about reconciliation or reunification he replied that "none of these things are mutually exclusive".
He said: "Sinn Fein has a vision for the reunification of our country, but the prerequisite for that being achieved is clearly an Ireland which is at peace with itself and, consequently, we need to address how we can best heal the hurts of the past".
For his part, Harold Good told me that so far as he was concerned the dialogue was not about "laying a path towards a united Ireland" but rather concerns "how we share this part of the island".
Although republicans may want to explore the hypothetical architecture for a united Ireland (how about a return to the old Sinn Fein "Eire Nua" regional government plan?), in practice it is more likely that this dialogue - with what amounts to a moderate Protestant/unionist think-tank - might yield some suggestions for breaking the logjam on dealing with the past.
Currently, Sinn Fein does not want to participate in round table talks chaired by a British secretary of state, whilst unionists are sceptical about the republican idea for a UN-style international truth commission.
Although Declan Kearney did not let the "S" word pass his lips on Monday's Stephen Nolan show, the IRA has used it on several occasions in the past.
In fact 10 years ago - on the 30th anniversary of the Bloody Friday bombings - the IRA offered "sincere apologies" to the families of all "non-combatants" it killed during the troubles.
Declan Kearney's initiative looks like it is preparing the ground for a wider apology on the 40th anniversary of the atrocity, perhaps extending past apologies to the loved ones of "combatants" as well.
However, it is probably a step too far for republicans to concede to unionist demands that they admit the Provisional IRA's campaign was wrong.
Whilst Gregory Campbell might have little interest in taking up Sinn Fein's invitation, one senior Ulster Unionist, the South Down MLA John McCallister, has already addressed a Sinn Fein economic conference.
The video of his speech in Newry last November is worth a watch, camera angles not withstanding http://www.youtube.com/watch?v=vzTISPLKCfg .
Amongst other things, the Ulster Unionist deputy leader talked about confronting the past "not with old rhetoric but with a new honesty".
Set alongside this weekend's ard fheis developments, the McCallister speech delivered direct to a republican audience provides a snapshot of what any future dialogue between unionists and republicans might look like.