Andor shortlisted for Royal Academy of Engineering's MacRobert Award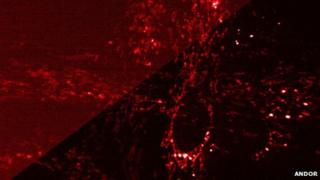 Belfast-based company Andor Technology has been shortlisted for the UK's top engineering prize.
The firm, which makes high-tech cameras for laboratory equipment, is vying with two other firms for the Royal Academy of Engineering's MacRobert Award.
It was nominated for its new highly-sensitive camera that allows scientists to map a genome in only a few hours.
The camera, called Neo sCMOS, takes pictures of single cells with greater accuracy than before.
The award was first presented in 1969 and recognises the successful development of innovative ideas in engineering.
It honours the winning organisation with a gold medal, and there is also a cash prize of £50,000.
The other contenders are Land Rover, for a concept car which features safety and weight-saving technologies, and Yorkshire-based firm JBA Consulting, which was nominated for its flood risk modelling system.
The winner will be announced at the Royal Academy of Engineering's annual gala dinner in London on 26 June.