Stephen Carroll sentence to be referred to Court of Appeal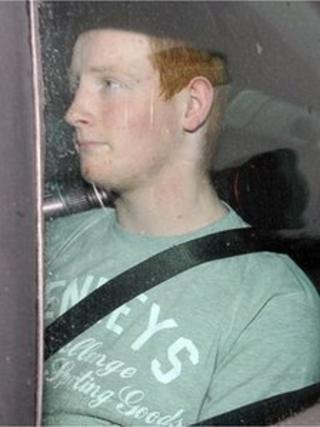 The sentence given to one of Constable Stephen Carroll's killers is being referred to the Court of Appeal by the director of public prosecutions.
On Monday, Lord Justice Sir Paul Girvan sentenced John Paul Wootton, 21, to a minimum of 14 years for murder.
The judge has been explaining his reasons for the sentence, saying he had to act within existing guidelines.
He said he would support any move to reconsider them because of the need for a greater deterrent in such crimes.
The judge said the Court of Appeal was the only place where this could be done.
Constable Carroll, 48, was shot dead in Craigavon in March 2009.
'Special rules'
The judge said the guidelines "laid down special rules for the fixing of the tariff in relation to persons committing a murder when under the age of 18, fixing a lower starting point in such cases as compared to tariffs for adults.
"The accused Wootton (who was 17 at the time of the murder) fell within that provision."
He added that "as the trial judge in this case I feel bound to express the view that the current guidelines and the case law based on them do require reconsideration to take account of modern conditions".
The judge said the guidelines needed "to properly take into account the argument that there is a heightened need for deterrence and retribution in the fixing of tariffs, at least in relation to certain categories of murder including, in particular, the terrorist murder of a police officer".
In a statement, the Public Prosecution Service said: "In view of the clarification by Lord Justice Girvan, the Director of Public Prosecutions, Barra McGrory QC, will refer the sentencing in this case to the Northern Ireland Court of Appeal.
"Careful consideration is being given to the terms of the reference which will be made within the statutory 28 days."
The other man convicted of Constable Carroll's murder, 41-year-old Brendan McConville, was given a 25-year minimum sentence.
On Tuesday, the chairman of the justice committee, Paul Givan, wrote to Mr McGrory asking him to review the tariff given to Wootton.
Following the judge's clarification on Thursday, Mr Givan said the decision by the Director of Public Prosecution "to refer this to the Court of Appeal will now provide the opportunity for justice to be done in this case.
He added: "Whilst this statement should have been made at the time of sentencing, I nevertheless believe this unprecedented development is recognition of the public outcry to the leniency of the sentence."