NI Forest Service to be relocated in County Fermanagh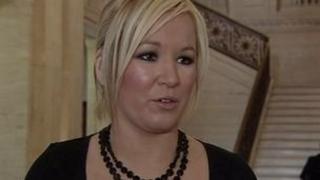 The headquarters of the Northern Ireland Forest Service are to be relocated in County Fermanagh.
The Minister of Agriculture, Michelle O'Neill, has asked the chief executive of the agency to identify premises for new headquarters in the county.
Ms O'Neill said the move would bring "more public sector employment" to County Fermanagh.
About 100 staff are employed by the Forest Service. Its existing HQ is on the Stormont estate in east Belfast.
The move is part of a larger Programme for Government commitment to move the headquarters of the entire Deparment of Agriculture to a rural location.
Speaking at the Balmoral Show on Thursday, Ms O'Neill re-affirmed her commitment to the DARD relocation and said she hoped to make a decision on the issue "soon".
She also insisted there were "obvious advantages" in having senior Forest Service management located in Fermanagh, where forests cover "15% of the county".
"Over time, I believe that many of the jobs will be taken by local residents, and it will afford an opportunity for people to work in the public sector at the highest level without having to relocate themselves and their families," Ms O'Neill said.
"For Forest Service, the move will allow the senior management closer on the ground experience of what is happening in timber processing and recreation in the forests in the West.
"It will help them to progress a culture of customer focus and will help them place a priority on their role as an important part of the rural economy."