Heated exchanges over unmasking of RUC source at Smithwick Tribunal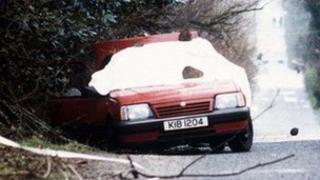 There have been heated exchanges at the Smithwick Tribunal over the unmasking of the identity of an RUC special branch source.
The tribunal is investigating claims of garda collusion with the IRA in the murders of two senior RUC officers.
Former RUC officer, witness Z, claimed murdered grain smuggler John McAnulty was the intelligence source linking a garda in Dundalk to the IRA.
The PSNI said the identification of the source was "outrageous".
The tribunal was established in 2005 to investigate allegations of Irish state collusion in the murders of RUC Chief Superintendent Harry Breen and RUC Superintendent Robert Buchanan.
The police officers were shot dead in an IRA ambush near the County Armagh border as they returned from a meeting in Dundalk garda station in 1989.
Giving evidence via videolink from Belfast on Friday, the anonymous witness said Mr McAnulty had told him that former detective sergeant Owen Corrigan was "helping out" the Provisional IRA in 1985.
Witness Z described this intelligence as believable.
PSNI lawyer Mark Robinson vociferously objected to the revelation of the source's identity.
In a heated exchange with counsel for the tribunal Mary Laverty he said even sources who were deceased should not be named to protect the flow of information.
The tribunal heard that Mr McAnulty was a businessman who was involved in the smuggling of grain. He was a "casual" source for the RUC and was not paid for the information he gave.
He was not a member of the IRA, but in 1989 he was abducted from a pub in Dundalk, tortured and killed by them. At the time, the IRA said he had been murdered because he had been working for the RUC for 17 years.
It was also reported in the press at the time that his details may have been in a diary stolen from the car driven by the two RUC officers, Harry Breen and Bob Buchanan, who were murdered four months earlier in March 1989.
Witness Z said he had had been told by his detective inspector that Owen Corrigan was "not to be trusted", and that all his colleagues were aware of that.
He admitted that he was a reluctant witness.
"I didn't really want to be here, to be honest, I came here for the sake of justice and to get this out of my system for once and for all," he said.
He told the tribunal he had changed his mind about giving evidence when he learned that Mr Corrigan had been absent without leave from his duties in Dundalk garda station on the night Mr McAnulty was murdered, and no explanation had ever been given as to where he was.
He told Mr Corrigan's lawyer that he was not suggesting that the former sergeant was involved in the murder, but he needed to explain where he was that night.
The tribunal continues