Unions strike over public sector pension cuts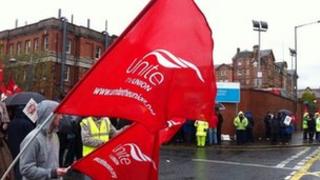 Thousands of civil service workers in Northern Ireland have been taking part in a 24-hour UK-wide day of strike action.
Members of Nipsa, Unite, the Public and Commercial Services Union (PCS) and the University and College Union (UCU) are protesting against pension cuts.
Workers have been picketing outside job centres, tax offices, passport offices and other public sector workplaces.
Several hundred attended lunchtime rallies in Belfast and Londonderry.
Speaking after the public rally, Nipsa general secretary Brian Campfield said union members had shown their "determination to protect their hard-fought entitlement to decent pensions".
"Nipsa, in conjunction with other trade unions both public and private sector, is determined to protect the interests of ordinary people against the onslaught from the Coalition government on their pay, terms and conditions, job security and the vicious assault on the welfare state," he said.
"Today, as was the case on May Day Saturday, our members at picket lines had the overwhelming support of the public in fighting the austerity dogma of the coalition government.
"The public were also clear in expressing to us their view that Northern Ireland's politicians needed to do more to protect the interests of all Northern Ireland's citizens."
The dispute is over government plans to raise the retirement age for public service workers in line with the state pension age - eventually to rise to 68.
The government says current pension schemes are unfair and unaffordable because people are living longer.
But the unions say members are being "robbed" and will have to pay more and work longer for lower pensions.
Nipsa members in the health and social care sector also took part in the strike action between 12:00 and 14:00 BST.
'Pension losses'
PCS Northern Ireland secretary Lynn Henderson said public sector workers were "suffering pension losses, at the same time as their pay is being frozen for a second year by the Northern Ireland Assembly and UK government.
"'The targeting of public sector pensions by the UK government is part of the flawed economic agenda of austerity which disguises a wider ideological attack on the public sector and public sector workers."
The government's pension plans have been largely inspired by Lord Hutton's independent inquiry into the rising cost of public service pensions.
He suggested that most staff should pay higher contributions, with the increases being phased in during the next three years.
Then, from 2015, most current staff and all new recruits would be offered career-average schemes instead of the more expensive, mainly final-salary, versions now on offer.