Rebecca McKeown's brother denies sexually abusing her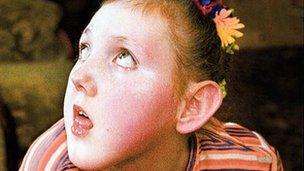 The brother of a disabled girl who died after an alleged sexual assault has denied sexually interfering with her.
Belfast Crown Court heard Stewart McKeown's fingerprint was found on a nappy his sister Rebecca was wearing on the day she was taken to hospital.
His grandparents are accused of the manslaughter of 14-year-old Rebecca McKeown who died in March 2001, five days after they had looked after her.
David and Sarah Johnston, from Carwood Drive in Glengormley, deny the charges.
When asked by a prosecution barrister if he had ever behaved inappropriately towards his sister, Stewart McKeown said "never".
Asked how he felt towards his sister, Mr McKeown told the jury: "I would say they (his feelings) were the same as any brother and sister - I loved her."
He said her death was "not very easy at all" to deal with.
The court has heard Mr McKeown was arrested on suspicion of murder in 2008 after a fingerprint was found on the nappy believed to have been worn by Rebecca when she was abused.
Under cross-examination from a defence lawyer, Mr McKeown said the "only explanation" he had was that he must have touched it when his mother asked him to get either a nappy or something out of the box where they were kept.
'Mystery'
His lawyer put it to him that since it was accepted he was still in bed when the "critical nappy" was put on Rebecca, "it's a mystery" how his print came to be on that nappy but not on any of the others that were examined.
Mr McKeown's mother Cheryl has testified that Rebecca was in her specially-constructed chair and Stewart was in the living room when she went to her parents' house to borrow hedge clippers in the afternoon.
In court on Wednesday, Mr McKeown agreed with his defence lawyer that he had not gone into the dining room, and had "no reason" to touch or check Rebecca's nappy, telling the lawyer, "I would not have done that".
After the cross-examination, trial judge Mr Justice McLaughlin told the jury Mr McKeown had been released without charge when police had questioned him in January 2008.
No charges
The judge said he had never been charged with any offences arising from his sister's death.
He told them it was "standard police practice" to put their case and any suggestions to a potential suspect "in direct and forceful terms" during interviews but that any such opinion or belief by a police officer "has no value as evidence, so must be disregarded".
The trial later heard evidence from Mr McKeown's former best friend, Mark Caughey, who said that when he called to his house on the afternoon of 19 March 2001, his friend was sitting on the sofa watching the television.
He told the court it was "only about three or four minutes" before Mrs McKeown came back from her parents' house, and during that time, "I was not aware there was anybody else in the house".
Under cross-examination from defence lawyers, Mr Caughey agreed that "on occasions" his friend was left to look after Rebecca by himself but that his mother never appeared to be too far away.
He said that on some of the occasions when Mr McKeown looked after his sister, they would have taken Rebecca around the corner to the Johnstons' house so that he could go out, adding that he did not ring ahead to check if this was alright as his grandparents "were always there and happy to look after her".
The trial continues.