Chistopher Mackin murder accused Julie Ann Valliday in court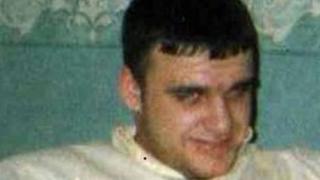 A woman accused of killing Belfast man Christopher Mackin in March was "impersonated" to put her in the frame, a court has heard.
Julie Ann Valliday, 35, is jointly accused of the murder with her husband Charles Valliday. Mr Mackin was shot seven times in Belfast city centre.
Prosecutors claim Mrs Valliday made phone contact with the victim 50 times in the hours leading up to the murder.
However, a defence lawyer said someone else had used her phone.
Mr Mackin, 31, was shot dead at College Square North on 1 March.
CCTV, telecommunications and cartridge discharge residue evidence forms the circumstantial case against Mrs Valliday, a Belfast High Court judge was told.
'Distinctive gown'
During her application for bail it was claimed she was seen in a distinctive gown similar to that worn by the driver of a Renault Clio which was linked to the shooting and later burnt out.
The gun used in the shooting has not been recovered.
But Nicola Auret, prosecuting, disclosed that Mrs Valliday is to be questioned about another revolver and ammunition found in a Audi car parked at Belfast City Hospital.
Opposing bail, Ms Auret said an examination of the victim's phone confirmed approximately 50 contacts with the accused in the three and a half hours before he was killed.
"It's believed as a result of these contacts that a meeting was arranged," the barrister said.
However, Taylor Campbell, defending, disputed the strength of the CCTV evidence and said Mrs Valliday claimed to have sold her Audi car weeks before the shooting.
Mr Campbell also pointed out that someone else could have sent the texts, one of which stated: "It's Julie, just text me, don't phone."
'Brutal person'
He contended that it was someone else pretending to be the accused.
"Whoever has committed this murder must be a fairly brutal, determined person," Mr Campbell said.
"People like that think nothing of using other people to cover their tracks.
"If she was involved in this it would be utter insanity to use her own phone and identify herself by text."
The court heard how Mr Mackin had told others that he feared someone was trying to set him up.
According to Mr Campbell there were a number of people prepared to target him and leave "a false trail".
He added: "The deceased in this case was someone well-known to police who would have had a wide range of enemies."
Bail was refused due to fears of possible interference with the police investigation.
Mr Justice Stephens pointed to the continuing police investigation, and said there were no conditions which could deal with the risk.