DUP-Sinn Fein tension over advisers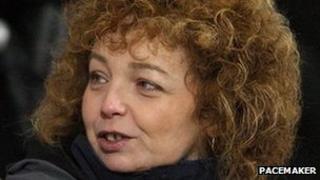 The latest row between the DUP and Sinn Fein over a special adviser's salary - revealed by my colleague Kevin Sharkey on the Sunday Politics - is surprising on a number of levels.
The two biggest parties have tended to resolve their differences in private, and the replacement of Mary McArdle in March had appeared to take some of the sting out of the issue.
The new appointments procedure recommended to the finance minister back in October didn't ban anyone with a criminal conviction from being appointed as a special adviser.
Instead it introduced security vetting by the agency Access NI into the system.
In the case of ordinary civil servants the default is to "generally reject" candidates with "convictions demonstrating a propensity to violent, destructive or abusive behaviour".
But as the October paper sets out, there's an appeal process which can be triggered under which an independent panel can consider criteria such as "an expression of remorse/regret" or "the absence of a pattern of repeat offending".
In the case of the new culture adviser, Jarlath Kearney, this appears to be entirely academic as - to the best of my knowledge - Mr Kearney has no convictions which would pose any vetting problem.
However it seems that Sinn Fein is unwilling to set a precedent, in case the new procedures prevent them from making any future appointments of former IRA prisoners.
Mary McArdle isn't the only adviser with a pre-ceasefire past.
Leo Green, an IRA hunger striker convicted for the murder of a police officer, advised Bairbre De Bruin when she was Health Minister, whilst Paul Kavanagh, husband of junior minister Martina Anderson, remains an adviser in the deputy first minister's office.
Anyone who heard my documentary in March on the life and times of the former bomb disposal officer Peter Gurney, will have heard his emotional account of picking up fragments of his best friend Ken Howorth's cardigan after Mr Howorth was killed trying to defuse an IRA bomb in the basement of a fast food restaurant in London's Oxford Street.
Paul Kavanagh was convicted for his part in Ken Howorth's murder as well as other IRA attacks such as the Chelsea barracks' nail bombing which claimed the lives of two civilians.
As David Trimble once said, just because someone has a past doesn't mean they can't have a future, and Sinn Fein aren't likely to agree to a regime in which ministers who are themselves former IRA prisoners cannot employ anyone with a similar conviction as their adviser.
A Sinn Fein source's revelation that some of Peter Robinson's DUP special advisers recently received a big salary increase which their Sinn Fein counterparts didn't get points to significant tension between the "big two" over this issue.
They'll need all the "special advice" they can get to chart a way forward, especially as the TUV leader Jim Allister promises to hold the DUP's feet to the fire by pushing forward with his private member's bill banning those with serious criminal convictions from becoming ministerial aides.
P.S. If you didn't hear yesterday's "Inside Politics" you can catch it on the BBC iPlayer here.
Amnesty's Patrick Corrigan shared his fears about the limitations of the executive's inquiry into historic child abuse in state and religious care homes, which he expects will start work next month, and we had a discussion between local Conservative and Labour members on the likely impact of last Thursday's local elections in England, Scotland and Wales on the stability of the Westminster coalition.