Brother of Bertie Acheson criticises justice system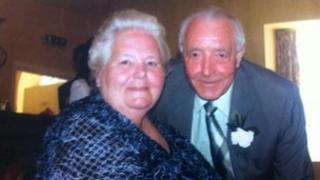 The brother of a Coleraine pensioner who died after a burglary has said jail terms for such crimes failed to refect the "devastation" caused to families.
Bertie Acheson, 72, was assaulted after he confronted an intruder in his Glenmore Gardens home on Monday and police are treating it as murder.
His brother, Mervyn, said the justice system in Northern Ireland provided "absolutely no deterrent".
Mr Acheson's funeral will be held on Saturday afternoon.
He suffered a heart attack during the burglary which detectives said was brought on by stress.
'Senseless crimes'
In a statement, the victim's brother said: "Bertie's daughter Sandra and son-in-law Keith have exhibited great strength and dignity in the extremely difficult circumstances of dealing with the police appeal.
"Also, they and the wider family circle have provided Sheila, Bertie's wife, with strong emotional support at this difficult time.
"Unfortunately in today's climate there is absolutely no deterrent for such senseless crimes, as court process and jail times fail to reflect the severity of said crimes and the devastation caused to the family in the aftermath."
Mervyn Acheson appealed to the burglar to give himself up and also urged the public to come forward with any information that could help to catch the man responsible for his brother's death.
He thanked the police for their "diligence and dedication" during the investigation
Officers believe the intruder lives locally.
Heartbreak
During the ordeal, he threatened Mr Acheson's 70-year-old wife, Sheila, before escaping with £375.
Police said they had received a number of calls to an inquiry line investigating Mr Acheson's death and a number of other leads are also being followed.
The Crimestoppers charity has offered a reward of up to £10,000 for information about his killing.
On Wednesday, Mr Acheson's daughter, Sandra Creelman, spoke of her family's heartbreak since his death.
She said the burglar had "ruined so many lives in the space of half an hour".