Rebecca McKeown trial told of brother's criminal record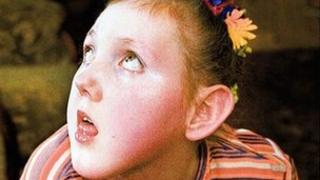 The brother of a disabled girl who died after an alleged sexual assault has convictions for assault, indecency, and burglary, a court has been told.
The details emerged as Stewart McKeown testified as a witness at a manslaughter trial in Belfast.
His grandparents are accused of the manslaughter of 14-year-old Rebecca McKeown who died in March 2001, five days after they had looked after her.
David and Sarah Johnston, from Carwood Drive in Glengormley, deny the charges.
'Terrifying'
Under cross-examination from a defence barrister on Thursday, it emerged that he had a number of criminal convictions, including assaulting police.
The court heard that in August 2002 he broke into a 71-year-old woman's bedroom through the window.
He admitted to the court that he had subjected the woman to "quite a terrifying experience" and she was a "vulnerable person".
He said he could not remember the incident because he was on drink and drugs.
Mr McKeown was 16 when Rebecca died, and the trial has already been told that he was once arrested on suspicion of murdering her.
He has never been charged in relation to the death of his sister.
On Thursday, Mr McKeown told the court he was alone in the family home with Rebecca for only two or three minutes on the day she was allegedly sexually assaulted.
He said he brushed her hair away from her eye, and that was the only physical contact he had with her.
He said he did not take drugs before Rebecca's death.
A defence lawyer suggested that when the witness got into trouble he "played the sympathy card, by putting it down to Rebecca having died."
Mr McKeown replied: "I don't think so...it was fact."
The court heard that when he was arrested in January 2008 on suspicion of murdering Rebecca, Mr McKeown told police he did not do it.
Later, a defence barrister questioned Mr McKeown about events on 19 March 2001, the day Rebecca was allegedly sexually assaulted.
The lawyer asked: "Is it not right something did happen when Rebecca was in your charge?"
Mr Stewart responded: "That's not right."
The barrister said: "If you didn't actually do something, you know more about it than what you're saying."
Mr Stewart responded: "That's wrong again."
Rebecca died in hospital from pneumonia, which the prosecution claim she contracted after an alleged sexual assault.
Mr and Mrs Johnston have been charged with her manslaughter and a further offence of child cruelty.