Fergus Finlay of Barnardo's speaks of abuse after Cardinal Brady revelations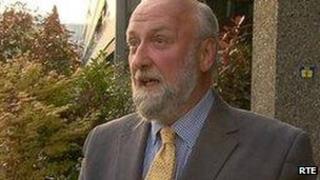 The head of Barnardo's in Ireland has spoken publicly for the first time about being abused as a child.
Fergus Finlay said he felt he had to speak out while taking part in a debate about the BBC's This World programme which found Cardinal Sean Brady failed to pass details of sex abuse by paedophile priest Brendan Smyth to police or parents in 1975.
Cardinal Brady said he accepted he was "part of an unhelpful culture of deference and silence in society, and the Church, which thankfully is now a thing of the past".
Mr Finlay said a changed culture was not a proper explanation.
"The only reason I raised this was in the context of a discussion where it was suggested when this happened it was a different time, it was dark and mysterious," he said.
"I think that's all rubbish."
Mr Finlay said he was abused in 1961 when he was 11 years old.
"I'm not trying to understate or overstate any of that, but I was lucky that I was able to tell my father and he instantly believed me and instantly acted on it," he said.
"Thousands of other children in those days were terrified to tell, and they may not have been believed if they did."
The former Irish Labour Party advisor said it was true that people were afraid of the church and those in authority.
"It would have taken a huge act of courage by my father to confront a brother or his superior," he said.
"I don't know what he did because I was 11, but he told me it would never happen again and it didn't. I don't think it happened to anybody in my class again either."
He said Cardinal Brady had a "moral responsibility" to follow up on information given to him by 14-year-old Brendan Boland and "to break ranks if he discovered nothing had been done".
Mr Finlay said he believed Cardinal Brady should now step down as head of the Catholic Church in Ireland.
"There is no recovery of moral authority possible without new, clean leadership," he said.
In a statement responding to the programme , Cardinal Brady claimed the BBC exaggerated his authority at that time, when he was a priest and teacher in County Cavan sent by his bishop to investigate a claim of child sexual abuse by a fellow priest.
He said he had "absolutely no authority over Smyth" and had felt betrayed that those in the Church who had the power to stop Smyth did not do so.