Ian Paisley and family in plan for private library in east Belfast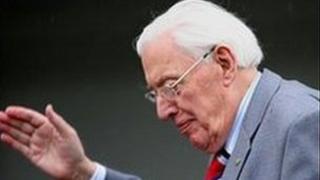 A company formed by the family of the former first minister Ian Paisley has applied for planning permission to open a private library in Belfast.
The BBC understands it would house Lord Bannside's collection of books gathered over the course of his religious ministry and political career.
Bannside Library Limited has applied to convert two retail units on the Upper Newtownards Road to a private library.
It is understood there would be some public access to the collection.
According to records filed at Companies House, Bannside Library Limited's directors include Lord Bannside, his wife Baroness Paisley and four of their children.
They are seeking planning permission for a private library and book store at 135-139 Upper Newtownards Road.
The proposals include a private reading area and an area for book storage.
Ian Paisley was the MP for North Antrim for 40 years and founded the Democratic Unionist Party in 1971.
He founded the Free Presbyterian Church in 1951 and served as its moderator for over half a century.
He officially retired from full-time ministry earlier this year.