Rise in level of poverty among working households in NI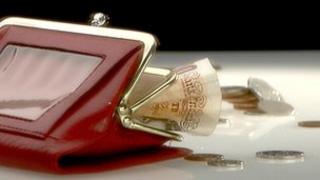 The number of working families and pensioners who are living in poverty in Northern Ireland has increased, according to new research.
A report from the Joseph Rowntree Foundation has examined the impact of the economic downturn on households in Northern Ireland since 2009.
It said half of the 120,000 children living in poverty are in a household with at least one working parent.
It also found that that over a fifth of NI pensioners are living in poverty.
The report, Monitoring Poverty and Social Exclusion in Northern Ireland, was published on Wednesday.
It said that the number of retired households living in poverty had increased from 55,000 to 70,000.
It also pointed out that a higher percentage (21%) of pensioners live in poverty in Northern Ireland compared to their counterparts in the rest of the UK where the figure is 16%.
Target
The research was carried out on behalf of the Joseph Rowntree Foundation by Tom MacInnes from the New Policy Institute.
He said people did not necessarily have to be destitute to be considered as living in poverty.
"What we use for measuring poverty is the same measure that's used by the government in Westminister when they are talking about their child poverty target.
"What we're saying is if you live in a household where your income - after taxes have been paid and after housing cost have been deducted - is less that 60% of the average across the country, then that household is in poverty."
Mr MacInnes said the threshold was determined by the number of people in the household because larger families needed more money to avoid poverty.
"If you take a lone parent with a couple of young children, then the poverty line is about £210 a week.
"And if we take a couple with two children, it goes up to around about £300 a week.
"So that's what you need to get your food, your transport, your clothing, your heating - all of that has to come out of that money."
He added that while things had "not got dramatically worse" since the foundation's last report in 2009, some worrying trends have emerged over the past few years.
'Most vulnerable'
Mr MacInnes argued that welfare reforms could have a disproportionate impact in Northern Ireland because it has a higher proportion of people claiming disability benefits than other parts of the UK.
Julia Unwin, chief executive of the Joseph Rowntree Foundation, said: "Our report shows that 22% of people in Northern Ireland were living in poverty in the three years to 2009-10.
"It's a tragedy that the most vulnerable in society - young and retired people - are suffering the very worst effects of the recession."
The report said that more than two thirds (69%) of pupils in Northern Ireland who receive free school meals were failing to obtain at least five GCSEs.
It also found that on leaving school, poor pupils were twice as likely as other young people to be unemployed.