Police say Newry bombers 'intent on murder'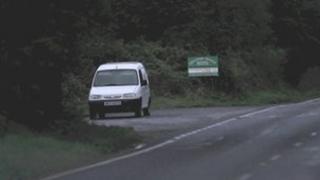 A senior police officer has said those who left a 600lbs bomb at the border near Newry had a "destructive, murderous intent".
The device, which was fully primed, was left in an abandoned van on the Fathom Line. It was discovered on Thursday and made safe on Friday evening.
Assistant Chief Constable Alastair Finlay said it was as "big a device as we have seen for a long time".
"This was a sophisticated device," he said.
"A lot of thought had been put into its construction.
"Clearly, it had been worked at for some time by people with murderous intent."
The police have said the bomb was twice as big as the device that exploded outside Newry courthouse two years ago.
They said if Thursday's bomb had exploded it would have caused devastation, killing with anyone within a 50m range.
Newry and Armagh MP Conor Murphy said there was a "sense of relief" that the bomb did not explode.
"There's also a sense of anger and outrage that these attacks continue," he added.
At the weekend, the police rejected criticism that motorists had been able to drive past the bomb.
Ch Supt Alasdair Robinson said police had closed a main cross-border road within 12 minutes.
"Many police services would struggle to get an international border road closed in this time frame," he added.
"There was some residual traffic following the closures and, while we made the public aware of the road closures and advised them to avoid the area, a few cars ignored our advice.
"We do everything in our power to protect human life."
Ulster Unionist MLA for the area Danny Kennedy said if the bomb had exploded it would have caused serious destruction.
He said: "It had the potential to cause lethal damage.
"A 600 pound device at the road side waiting for a police patrol. It is just unthinkable."
A member of the public reported the discovery of a suspicious vehicle to police on Thursday.
It had been abandoned with its engine running. The Fathom Line was closed for 24 hours while the police and Army dealt with the alert.
Dissident republican paramilitaries have been blamed for a number of bomb attacks in the city in recent years.
Earlier this month, a bomb was found near the Cloghogue roundabout in Newry, just off the main Belfast to Dublin dual carriageway.
Police said the device contained a significant amount of explosives and had the potential to kill.
It was also made safe by army bomb experts.