Giant's Causeway visitors centre gets sloped grass roof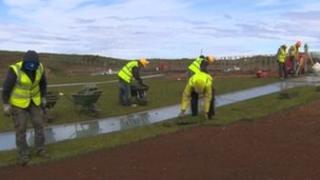 Workmen have been carrying out the risky job of laying grass at the Giant's Causeway.
It is risky because they are on top of the roof at the new visitors centre.
The design of the structure enables it to blend into its surroundings. This includes covering its sloping roof with local grass plants.
To make sure the grass fits the location, the project began with tonnes of soil covering the concrete roof.
It had to be local topsoil and have the right acidity for the area, otherwise local plants would not grow on it.
Indigenous
It is hoped that indigenous grasses and wild flowers will make the roof their home in due course.
To make sure the grass blends in properly with the local fields and countryside, a County Down company spend months gathering seeds from the surrounding area.
These were then mixed with more commercial grasses that can cope with constant pedestrian traffic.
Last autumn, grass was planted out in panels at the front of the nearby Causeway Hotel.
Now workmen are lifting the grass panels and taking them up onto the roof and laying them out like huge carpet tiles, so there are no "grass miles" involved in its transport.
"It's not just the stones that are unique, some of the local wildlife is also unique," says Cliff Henry, National Trust conservation officer for the Causeway.
"We've made every effort to encourage rare plants and animals to make this their home.
"That's why we've had to be so particular about the soil and grass."
The centre still hopes to open in July as planned.