Minister disputes claims on welfare reform plans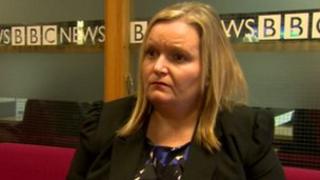 Northern Ireland will be hit harder than any other region outside London, if planned welfare reforms are pushed through Stormont, it has been claimed.
Patricia Lewsley-Mooney, the Northern Ireland Commissioner for Children and Young People (NICCY) , said the changes would force more children into poverty.
She was speaking as she launched new research examining the likely impact of the Welfare Reform Bill on NI.
The Social Development Minister said she was causing unnecessary concern.
Nelson McCausland said introducing a cap on benefits would leave Northern Ireland no different than other parts of the UK.
The new research found that the families of at least 6,500 children will lose money.
This is attributed to the plan to cap benefits at £26,000 per year for working-age households.
Mr McCausland said: "I think the figure of £26,000 is a reasonable income on benefit and I think most people out there across Northern Ireland would take that view as well.
"I think that the impact on Northern Ireland will be very similar to what it is to many other parts of the UK."
Mr McCausland said he felt that the claim that the families of at least 6,500 children would lose money was "impossible to quote at the moment".
"We are still waiting on information from Her Majesty's Revenue and Customs to enable us to get the precise figure," he added.
Earlier, Ms Lewsley-Mooney claimed that one third of children in Northern Ireland were already living in poverty and the reforms would exacerbate the situation.
"I've met the children who sometimes have to go to bed on a Wednesday night when there is no food in the house or where they have no electricity until the next morning, until their mummy gets their benefit, so that is already happening," she said.
Ms Lewsley-Mooney also warned that families with disabled children would lose an average of £1,400 per year in benefits if the bill was implemented.
Larger families
The Welfare Reform Bill passed through Westminster in March, but NICCY has urged Stormont MLAs to make changes to the legislation which will take Northern Ireland's particular circumstances into account.
Ms Lewsley-Mooney commissioned two reports, one examining the impact on children's rights and the other assessing the implications of breaking parity with other UK regions on welfare reform.
The rights report found that Northern Ireland would be adversely affected because it is "the UK region with the highest percentage of households with children (34%), compared to a UK average of 28%".
It also said that Northern Ireland had the highest proportion of larger families, those with four or more children.
Many aspects of social welfare are already devolved to Northern Ireland, and the Social Development Minister has repeatedly cautioned against breaking parity with Great Britain.
However, NICCY pointed to the recent discussions on Air Passenger Duty (APD) as an example where breaking parity has been suggested to ease regional difficulties.
The coalition government has heralded the bill as the biggest welfare revolution in more than 60 years.
The bill also includes changes to housing benefit and employment and support allowance.