Glengormley grandparents deny killing Rebecca McKeown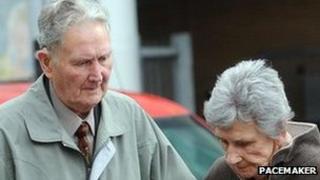 The grandparents of a severely disabled teenage girl have gone on trial accused of killing her.
Fourteen-year-old Rebecca McKeown died in hospital in March 2001, five days after she had been looked after by her grandparents.
David Johnston, 88, and his wife Sarah, 86, from Carwood Drive in Glengormley, County Antrim, deny manslaughter and charges of child cruelty.
The trial is expected to last until mid-June.
The barrister for the prosecution warned the jury of seven men and five women that aspects of the case would be distressing and unpalatable.
During the opening of the trial at Belfast Crown Court on Tuesday, the court heard harrowing details of the injuries suffered by the 14-year-old which the prosecution claimed were inflicted by her grandfather during a sexual assault.
The teenager used a specially designed wheelchair and could neither walk, talk nor eat for herself. She died after developing pneumonia.
'Extraordinary detachment'
The prosecution claimed the pneumonia was brought about because of the loss of blood and shock she suffered in an alleged sexual attack whilst in the care of her grandparents.
The jury was told that it was clear an "alleged sexual assault happened whilst Rebecca was in the care of her grandparents" as blood was found on their sofa and Mr Johnston's clothes and she was fine when she got to their home but appeared distressed when collected.
During later interviews and in a statement, Mr Johnston accepted lifting his granddaughter out of her chair when she appeared uncomfortable while in his living room and sitting her on his lap on the sofa.
Another factor for the jury to consider, said the lawyer, was a "lack of surprise" when told their granddaughter had been sexually assaulted.
He said that before the incident, there had been daily contact but that afterwards, there was an "extraordinary detachment" from their daughter, Cheryl, and her family's life.
Showing the jury a photograph of the small living room of the King's Drive house where the Johnstons lived at the time, the prosecution said it was the Crown case that the alleged sexual assault happened in that room and that according to the evidence, neither defendant was alone with Rebecca for any significant period of time.
"The prosecution case is that the injury that led to and therefore in law caused Rebecca's death was inflicted by one of the defendants when the other was present and by their absence of action to prevent or report it, they must have known of and therefore encouraged it," said the lawyer.
"However surprising and however distasteful it maybe to make such allegations against grandparents, the evidence will demonstrate that both are responsible in their different ways, for the death of that unfortunate child."